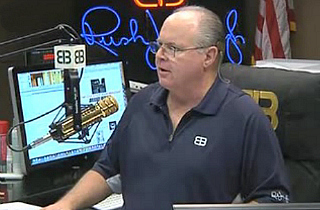 Conservative radio host Rush Limbaugh declared victory on Thursday in his war against feminism. Limbaugh cited a poll which showed personal identification as a feminist on the wane. He noted that the poll also showed that more people consider the term to be an insult than a compliment. Limbaugh said that he has been warning against modern-era feminism for more than a quarter century and claimed that he had "succeed in stigmatizing" feminism.

"The Washington Times is reporting that feminism may be dead," Limbaugh began. "At least in this way: 72 percent of Americans say they are not feminists."
"It is likely disappointing news for old-school bra-burners and Gloria Steinem-inspired Feminazis," Limbaugh continued.
RELATED: S.E. Cupp Mocks Feminists For Freaking Out At Princeton Grad's Advice To Women To Find A Spouse At School
He went into the details of a new poll which asks if "feminism has become a dirty word."
"Overall, 28 percent consider themselves to be feminists," Limbaugh reported. "72 percent do not."
"Who do you know that, for 25 – actually 28 years – but 25 on the national stage has been pointing out the truth of militant, left-wing feminism?" Limbaugh asked. "Could it be said that years of properly defining modern-era, militant feminism has proven fruitful?"
Limbaugh said that, like being a Republican, it is not "cool" to call oneself a feminist. This means that it is likely that there are more people who consider themselves feminists but who do not share this information with pollsters.
"I'm still going to chalk that up as a success," Limbaugh said. He noted that only 38 percent of women and 18 percent of men consider themselves feminists, and more Democratic women than Republican women will label themselves as being feminists in that poll.
"People twice as likely to consider calling somebody a feminist to be an insult – that's 23 percent – rather than a compliment – 12 percent," Limbaugh added. "It might be said that I have succeeded in stigmatizing [feminism.]"
Listen to the clip below via The Rush Limbaugh Radio Show:
h/t Daily Rushbo
> >Follow Noah Rothman (@NoahCRothman) on Twitter
Have a tip we should know? tips@mediaite.com