Limbaugh Praises Trump for 'Hijacking' DNC With Russian Email Hacking Request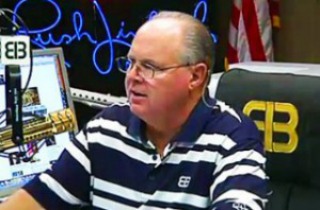 Donald Trump drew the usual levels of outrage and defense from supporters for what he suggested at his press conference today, but as far Rush Limbaugh is concerned, it was a genius move that will completely derail the Democratic National Convention.
On Wednesday, the mogul turned heads when he basically asked Russia to find Clinton's emails from her server, if they were indeed the ones who hacked the DNC's emails. Trump has been burned by many people for implicitly inviting foreign espionage of national secrets, though Limbaugh was positively ecstatic that he seized the media's attention away from his political rivals yet again.
"Donald Trump just hijacked the Democrat convention after the biggest night of that convention so far," he said. "He was confident, he was hilarious, he was taking no BS from any in the media. He was challenging Hillary to do the same thing."
After ripping on the reactions Trump's remarks got from various figures on cable news, Limbaugh seemed to join the chorus of defenders saying Trump was definitely not being serious with his remarks. Limbaugh went on to say that Trump was actually "quite clever" for his peculiar method for pointing attention to Clinton's email.
"He was clever, he was informed, and he was not stumped on a single question," Limbaugh said. "He knew how to push their buttons. He was measured… It was masterful when you see it."
Listen above, via The Rush Limbaugh Show.
[Image via screengrab]
— —
>> Follow Ken Meyer (@KenMeyer91) on Twitter
Have a tip we should know? tips@mediaite.com