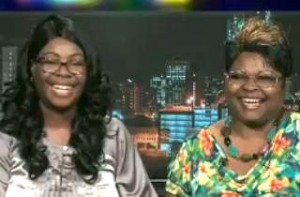 Readers of Mediaite are already well familiar with the "Stump For Trump Girls," a pair of black women who have been making the media rounds extolling the virtues of Republican presidential frontrunner Donald Trump, and blurting out the occasional gay rumor about Marco Rubio. Well, apparently, there's much more to Lynette "Diamond" Hardaway and Rochelle "Silk" Richardson than meets the eye, at least if radio giant Rush Limbaugh is to be believed.
According to Limbaugh, Diamond and Silk are really "Democrat" double agents, determined to hand Trump the Republican nomination, only to turn on him in the fall:
Well it turns out — you know those two black babes that do the funny videos for Trump? Diamond and Silk are their names. Well it turns out, and I don't know if this is the same thing, but it turns out back on September 28th of 2015, they created a website called Ditch and Switch Now, and the purpose of it is to vote for Donald Trump in the primaries. And, again, that's from Diamond and Silk. These two hilarious black women who do the videos for Trump. They announced that there was a website, ditchandswitchnow.com, and the purpose was to switch to Republican vote for Donald Trump in the primaries. Obviously it would be targeted at Democrats and African-Americans because that's who these two babes are. Now I don't know if it's the same thing. It would be coincidental if not, that these two babes come up with a website and an organization called Ditch and Switch and then this 46,000 number of Democrats switching to Republicans in Pennsylvania has a name and the name is Ditch and Switch.
Of course, both "Ditch and Switch" operations share the stated goal of electing Trump in November, but Limbaugh's paranoia ironically stems from a familiar source: Rush Limbaugh. In 2008, he launched "Operation Chaos," in which he urged listeners to vote for Hillary Clinton in open Democratic primaries in order to prolong and disrupt the Dems' nomination process. Now, it appears those chickens have come home to roost, at least in Limbaugh's imagination.
This is an opinion piece. The views expressed in this article are those of just the author.