Live From The G8! With Mediaite's On-The-Scene G8 Correspondent, Rachel's Dad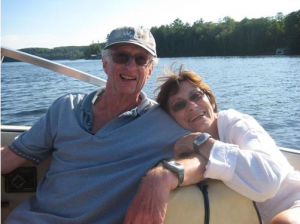 The sun is shining in the heart of Ontario's leafy, lake-y Muskoka, the heart of Cottage Country — and international relations as the leaders of the G8 countries gather to discuss matters of global geopolitical importance and hey, was that just the call of the loon I just heard? While President Obama touches down at the lovely and historic Deerhurst Resort (where the lovely Shania Twain first got her start), no one is better poised to talk about the scene he encounters there among the tree-nestled lakes of Huntsville and the surrounding region — from the back dirt roads to the CF-18s flying overhead to the loons on the lake to whether he should be worried about bears — than Mediaite's G8 Special Correspondent, Dr. Donald Sklar, aka my dad.
That's him above, pictured with his producer and fact-checker, my mom, on sunny Lake of Bays, the next lake over from Peninsula Lake, or Pen Lake, as the locals say, on the shores of which Deerhurst sits like a picturesque, timeshare-iffic jewel. They're about a five minute drive from Deerhurst, if that, though not today thanks to a region on lockdown. ("I saw six OPP cars on South Portage Road alone! You never see that!") My parents have spent the summers cottaging on Lake of Bays — technically in a town called Dwight, though Huntsville is the biggest nearby town, the main hub serving the various municipalities dotting the rural landscape up north towards Algonquin Park and beyond. I, too, have spent those summers with them (I filed this blog-shaking story from there, for example), so I knew that there could be no greater expert on what, say, the closing of Highway 60 might mean to local businesses (bad weekend for The Butcher's Daughter and Three Guys and a Stove), or the $1 billion pricetag for the event, or what the chances are of Italian Prime Minister Silvio Berlusconi being eaten by a bear (not good, luckily for him).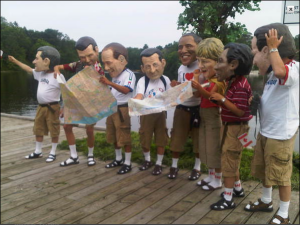 So we interviewed him! Steve Krakauer and I asked him the tough questions today, about the G8 in Huntsville, the G20 in Toronto — and, as a special bonus, how he feels about a Fox News-type channel coming to Canada. For the uninitiated, my dad is a big fan of Fox News, and has some thoughts on his favorite "fair and balanced" network (his words). He also ranks his top five favorite people on the network. I did not pre-screen that part, as I'm sure will become obvious. Listen to the podcast below, and enjoy. My dad is awesome, and if you need anything while you're up in Huntsville, you should totally call him. I'll hook you up.


Fortress Toronto: Massive Security Clampdown for G8/G20 Meetings Most Expensive in Canadian History [Democracy Now]
G8 seeks to divert attention from broken aid pledge [The Guardian]
Follow Rachel's Dad on Twitter! [@DowntownDwight]
Have a tip we should know? tips@mediaite.com