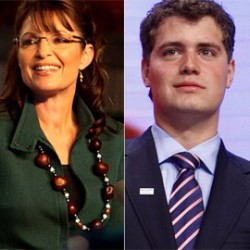 When President Barack Obama was first elected to office everyone concluded his would be the first Internet presidency and that this would be a good thing because among other things it would shed transparency on the previously dim inner workings of Washington. Thus far all that the Internet has appeared to shed light on when it comes to politics is how many morons participate in it.
Case in point. Some local New Hampshire Democrats took the death of Ted Stevens in an airplane crash earlier this week as an opportunity to wish death on Sarah Palin…also Levi. From the website NowHampshire:
There's only one way the tragic airplane crash in Alaska that ended the life of former-U.S. Senator Ted Stevens could have been better, according to New Hampshire Democratic activist and State Rep. candidate Keith Halloran: If Sarah Palin had been on it.

In a Facebook post, Halloran, who describes himself as "an active local citizen and supporter of NH Governor John Lynch," said of the plane crash, "Just wish Sarah and Levy were on board."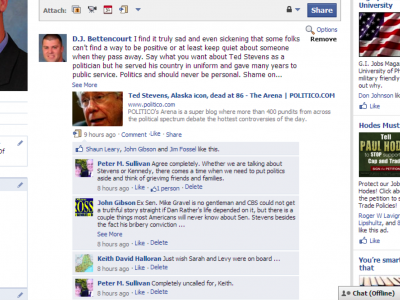 He was not alone. ""Natch Greyes, a staffer for Democratic Rep. and Senate hopeful Paul Hodes tweeted the following on July 21st: "I have to wonder if & or when @sarahpalinusa will learn the meaning of our state motto: "live free or die.""
Makes one wonder whether Google Goggles should not just be limited to Gmail between the hours of midnight and 6am.
Update: Another NY pol, Rep. Timothy Horrigan, who made similar remarks on his Facebook has now resigned.
Have a tip we should know? tips@mediaite.com