Local Reporter Resigns After Jokingly Calling Herself a 'News N*gga' in Twitter Exchange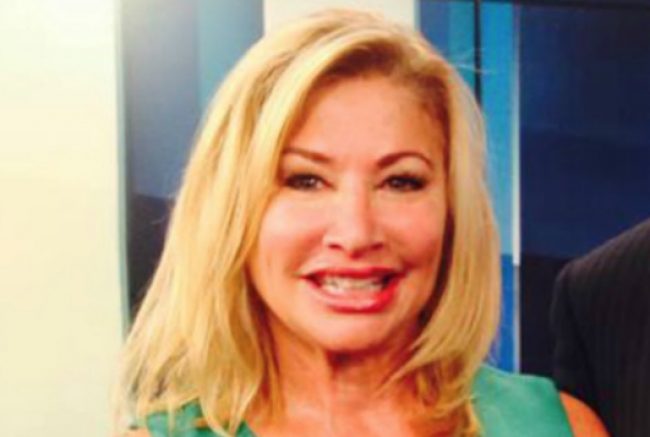 A misfired conversation led to a white local news anchor's resignation after she facetiously used the N-word in reference to herself as she tried to contact an African American man about a story she was working on.
Valerie Hoff, who worked as a reporter for WXIA-TV, told Atlanta Journal-Constitution that she was trying to track down a video showing a white police officer punching a black motorist during a traffic stop last month. Hoff noticed that a black man calling himself Curtis Rivers posted the confrontation on Twitter, so Hoff sent him a direct message asking if she could make a copy.
Rivers reportedly used the N-word a lot in his Twitter activity, and tweeted that a lot of "news n*ggas" were asking for permission to use the video. Hoff referred to herself as a "news n*gga" in her DM. Even though Rivers seemed amused at first, he noticed that Hoff was white, and the situation then took a turn for the worse.
Here are pictures of the exchange, via AJC: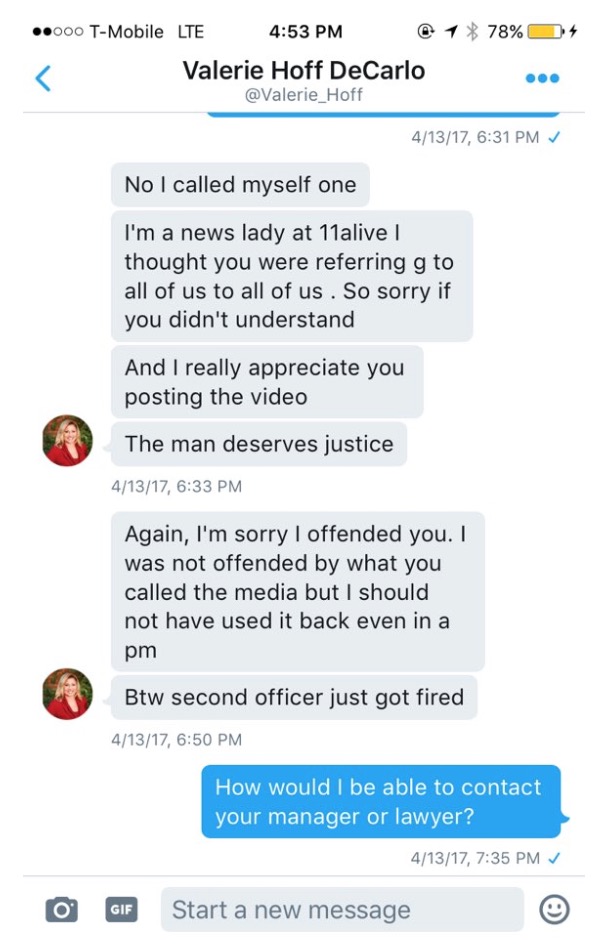 Despite Hoff's attempts to clarify what she meant, Rivers posted pictures of the private messages on Twitter, which started gaining online attention. Hoff was initially put on suspension, but she eventually tended to her resignation.
"I was quoting something the gentleman said in a public tweet back to him in a private message but that doesn't make it any less offensive. It was incredibly stupid and reckless," Hoff said. "I repeatedly apologized and continue to do so. I also offered to resign immediately."
Rivers reacted to the dustup by telling AJC "I just think it wasn't right for her to use that word in regards to a person who is African American on herself or use the word period for that matter. If she is bold enough to say it to me being an African American then I'm pretty sure this isn't the first time she has used that word."
Hoff has talked about the incident on Twitter, insisting that her intentions were good, even if her word choice was bad:
@tcpoust Thx so much! Bad judgement but good intentions. Story was about black man being beaten and kicked by white officers. Needed video. #stupid

— Valerie Hoff DeCarlo (@Valerie_Hoff) April 28, 2017
Thanks so much for your support. It was one bad decision in a 25 year (or maybe longer career) https://t.co/AXfRTD0GxU

— Valerie Hoff DeCarlo (@Valerie_Hoff) May 1, 2017
@edsbs Not racist.Was asking for video of black man beaten and kicked by white officers.He exploited DM out of context.https://t.co/ZnyeP6C16Q

— Valerie Hoff DeCarlo (@Valerie_Hoff) April 30, 2017
Thank you! My ❤is in right place. And I have a clear conscience except for one moment of stupidity aimed at exposing an injustice. https://t.co/vmBu2ogRIU

— Valerie Hoff DeCarlo (@Valerie_Hoff) May 1, 2017
[Image via AJC]
— —
>> Follow Ken Meyer (@KenMeyer91) on Twitter
Have a tip we should know? tips@mediaite.com