Lots and Lots of Anonymous Sources Tell ESPN That ESPN Employee Tim Tebow is Really Good at Baseball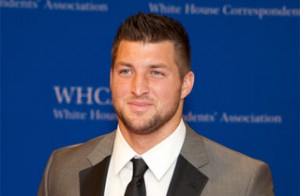 Tuesday morning, the front page of ESPN.com — which has long been the most valuable piece of Internet real estate in all of sports — featured a story on the baseball exploits of ex-NFL quarterback Tim Tebow.
According to the article, more than two-thirds of all MLB teams apparently have at least some interest in the Heisman Trophy winner, who last played baseball in high school — where he was an all-state selection in Florida.
Just how did ESPN manage to land this scoop? Let's break it down.
Here's the first line of the report:
Tim Tebow is scheduled to hold a workout for Major League Baseball teams on Aug. 30 in Los Angeles, a source told ESPN's Jerry Crasnick.
The very next line cites a (different?) source talking to another ESPN reporter.
More than 20 MLB teams are confirmed to attend the workout, a source told ESPN's Adam Schefter.
Two paragraphs down, a third ESPN reporter gets in on the anonymous source fun.
Tebow had a tryout with the Los Angeles Dodgers before this season, sources have told ESPN's Darren Rovell. A scout was present for the workout, and the team showed interest in Tebow afterward, the sources said.
Three anonymous source citations from three different reporters in five paragraphs is already problematic for a report that hardly qualifies as being Watergate-level in terms of the public's need to know. What further complicates matters is that Tim Tebow is currently under contract with ESPN. And this report, save for one brief mention of the "mixed reaction" surrounding Tebow's desire to play baseball, basically reads as PR fluff.
The Rovell-reported passage is clear in what it implies. A major league team actually saw Tebow play baseball, and is still interested in him. That anonymously sourced information is very clearly communicating that Tim Tebow can still play baseball. And its placement on the ESPN homepage makes it essentially a commercial to the MLB teams not already ticketed to attend Tebow's workout on Aug. 30 (which exists, a source told Jerry Crasnick, and will have 20 teams in attendence, a source told Adam Schefter).
Hey, you'd better get in on the frenzy. Tim Tebow is here, and he can help sell a bushel of tickets for your Double-A team!
And ESPN is looking to capitalize on Tebow-mania too, which it, of course, is helping to create. They want people tuning in to whatever broadcast he pops up on during the baseball offseason. As it stands now, ESPN will almost certainly profit off of Tim Tebow's baseball exploits. He's back in the news, at the top of people's minds.
Tim Tebow is immensely popular. There's no getting around that, whether one is a fan of his or not. So the revelation that he's pursuing a baseball career is news, and ESPN is justified in running it, and featuring it high up on the website.
But when ESPN gets an anonymously sourced scoop about an employee, then runs a puff piece off of which they will profit, they're wading into murky journalistic waters.
At the very least, ESPN should sever its ties with Tebow for as long he's pursuing his baseball career. Otherwise, ESPN's journalistic integrity may take a hit.
Sources say.
[image via shutterstock]
–
Joe DePaolo is the Sports Editor for Mediaite. Follow him on Twitter @joe_depaolo.
This is an opinion piece. The views expressed in this article are those of just the author.
Joe DePaolo - Senior Editor