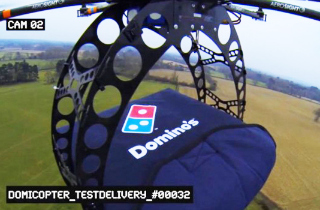 Last month we met the kindler, gentler side of drone technology via a South African beer-delivery copter; this month brings news that massive pizza chain Domino's is experimenting with delivering its cheesy goodness to your door via remote-controlled octocopter.
According to Fox News, the second-largest American pizza chain hired creative agency T + Biscuits to experiment with an 8-propellor helicopter that can deliver a pizza straight to your doorstop without the use of a delivery guy driving a beat-up sedan through traffic and stop lights.
The "DomiCopter" can currently deliver two large pies in about ten minutes within a four-mile radius of the Domino's store. The device requires an experienced drone pilot to navigate it from the ground, but future iterations could conceivably utilize GPS technology to fly independently.
– RELATED: Terrifying: The Moment A Drone Narrowly Misses Passenger Plane Carrying 100 People
Other potential names for the drone included the "Pepperdroney" and the "Flyin' Hawaiian," but the agency ultimately settled on the targeted branding with "DomiCopter."
Video of the DomiCopter in action shows the pizza taking to England's sky via the chain's signature thermal heating bag, landing before an eagerly-awaiting "customer" who removes the pies from the bag, and then returning back into the air.
No word on if and when the pizza drone will become a regular part of Domino's pizza delivery system in either the United Kingdom or the United States.
Watch the test run below, via Domino's UK:
[h/t Fox News]
— —
>> Follow Andrew Kirell (@AndrewKirell) on Twitter
Have a tip we should know? tips@mediaite.com