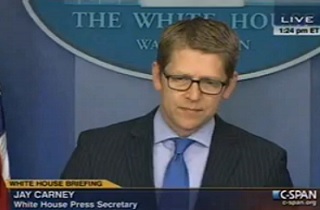 Oversight and Government Reform Committee Chair Rep. Darrell Issa's (R-CA) campaign to make a dollar out of fifteen cents worth of IRS scandal hit another bump in the road over the weekend, as his attack on White House Press Secretary Jay Carney backfired like a Maserati on leaded gas. On CNN's State Of The Union, Issa called Carney a "paid liar," and at Monday's White House daily press briefing, Carney went all Game Of Thrones on Issa in response.
Anyone who saw Sunday night's episode of the HBO drama might think, appropriately, that I'm saying Carney murdered the living crap out of everything that Darrell Issa cares about, in as over-the-top fashion as possible. That actually should be the new definition, with the verb form "to Game of Thrones." For example, remember when President Obama Game of Thronesed Donald Trump by releasing his birth certificate, and then shooting it into Trump's face with a crossbow?
In Issa's case, though, I use the term more narrowly, in that Carney killed off beloved characters in Issa's favorite drama, the IRS storyline in the Scandalabra™ saga. When asked about Issa's remark Monday, Carney reacted with surprise and amusement. "I hadn't heard that," he said with a smile. "That's amazing."
He began by insisting that he didn't want to "get into a back and forth with Chairman Issa," but then proceeded to stab the living crap out of Issa's underlying accusation.
In a lengthy response, Carney noted the one plot point that fans of Issa's show can't get around. "(W)hen I spoke about the situation, I was referring to the findings of the independent Inspector General, who — let's be clear — said that he both in testimony and in his report found no evidence that outsiders — those outside the IRS — influenced the behavior that took place there," Carney said. "That is the conclusion of the independent Inspector General, and we certainly have seen no other evidence to contradict that."
CNN Chief White House Correspondent Jessica Yellin took another shot at it, asking Carney "Just to button down the Issa thing, finally — they point specifically to two instances in the briefing where you said on May 21st, referred to apparent conduct by our IRS officials in Cincinnati; and on May 20th, line IRS employees in Cincinnati improperly scrutinized 501-(c)(4) organizations. When you made those statements…"
"Those are the findings of the audit conducted by the independent Inspector General, correct?" Carney replied. "Those are the findings, right?  I was citing — and perhaps there are issues that the Chairman has with the IG.  I was citing the findings of the independent Inspector General.  As you recall, we waited for that report to be released before responding. The President responded I think with appropriate concern and took immediate action, and is continuing to direct those who are responsible for these matters to take action."
"Again, the Inspector General concluded in his report and testified to this before Congress that he found no evidence of outside influence on the behavior that was of such great concern to all of us at the IRS," he continued. "It is also important to note the President has instructed the new acting commissioner of the IRS to conduct a review that looks at this activity; holds responsible those who were responsible for it — holds accountable those who are responsible for it; and takes measures to ensure that it can't happen again."
Carney was also asked if he thought Issa owed him an apology, to which he replied, "I appreciate those who have spoken in my defense, but I would simply say that I am not interested in having a back and forth with Chairman Issa."
Chairman Issa can check the transcripts of those briefings, and find that Carney was, indeed, truthfully citing the Inspector General's report. Hence, the character of "Paid Liar Jay Carney" is now as dead as Robb Stark.
More importantly, though, Carney's broader response foreshadows the eventual result of this "scandal." Issa has already released the excerpts of testimony that he believes to be the most damaging, but as Candy Crowley pointed out, even in their most cherry-picked "damning" quotes, there is absolutely no direct evidence that the targeting of tea party groups originated in Washington, but more importantly, not a shred of a hint of a suggestion that it came from the White House.
No matter how badly they want it to, Republicans' IRS scandal is never going to get to where they want it to, never going to storm the gates of King's Landing. However messy it becomes, the IRS scandal is going to die right there in the IRS' banquet hall.
Have a tip we should know? tips@mediaite.com