Maldives Island Residents Claim to Have Seen 'Low-Flying' Jet on Night of MH370 Disappearance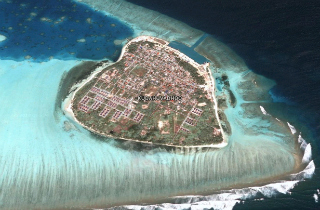 As the mystery continues through its second week, residents of a remote island in Maldives claim they saw a "low-flying jumbo jet" in the evening hours after Malaysia Airlines 370 disappeared.
The claims came from people on Kuda Huvadhoo, in the Dhaalu Atoll, who told the press they heard and saw the plane during the early hours of March 8.

Whilst the disappearance of the Boeing 777 jet, carrying 239 passengers has left the whole world in bewilderment, several residents of Kuda Huvadhoo told HaveeruOnline on Tuesday that they saw a "low flying jumbo jet" at around 6:15am on March 8.

They said that it was a white aircraft, with red stripes across it – which is what the Malaysia Airlines flights typically look like.

Eyewitnesses from the Kuda Huvadhoo concurred that the aeroplane was travelling North to South-East, towards the Southern tip of the Maldives – Addu. They also noted the incredibly loud noise that the flight made when it flew over the island.

"I've never seen a jet flying so low over our island before. We've seen seaplanes, but I'm sure that this was not one of those. I could even make out the doors on the plane clearly," said an eyewitness.

"It's not just me either, several other residents have reported seeing the exact same thing. Some people got out of their houses to see what was causing the tremendous noise too."
The island is nearly 2,000 miles from Kuala Lumpur, and one aviation expert told HaveeruOnline it is "likely" this was the same plane, if true, given the rarity of low-flying aircraft in Maldives. Another expert, however, indicated that while "theoretically possible" there is not enough information about the plane's fuel level to safely suggest that it could have turned around and headed west over the island chain.
For more of our coverage of MH370, check here.
[Image via Google Maps]
— —
>> Follow Andrew Kirell (@AndrewKirell) on Twitter
Have a tip we should know? tips@mediaite.com