Here's one of those "see? there are good people on the internet too" stories: a man who was laughed at for dancing because of his weight received an overwhelming amount of support online from people who want to plan a really big party for him.
It all started out with this post by a user on 4chan: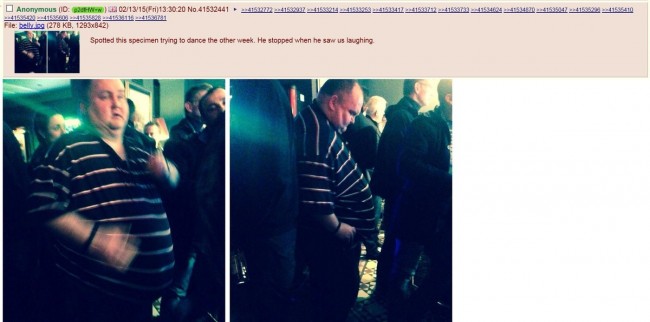 The text above the pictures reads, "Spotted this specimen trying to dance the other week. He stopped when he saw us laughing."
Well, the pictures made their way around the web, and obviously a lot of people didn't care for the way "dancing man" was being treated and expressed their sympathy. One person decided to go the extra mile to help him out.
Cassandra Fairbanks kicked off a social media campaign to find the dancing man and throw him an epic VIP dance party:
Anyone know this man or who posted this? There's a huge group of ladies in LA who would like to do something special pic.twitter.com/DGbu3AXOrB

— Cassandra (@CassandraRules) March 5, 2015
We would like to fly him to LA for a VIP dance party with the coolest and most awesome ladies in la, please help. https://t.co/f1GtMd3Exv

— Cassandra (@CassandraRules) March 5, 2015
#FindDancingMan Help us find this dude with the moves! Let's do this, ladies! pic.twitter.com/JvBIkpIxdi

— TheElleWord (@TheElleWord) March 6, 2015
Body shaming is awful & people hide behind social media. Help me and my 2,000 girlfriends #FindDancingMan #dancefree pic.twitter.com/i5iGXYKEwe

— Hope Leigh (@HOPELEIGHMUSIC) March 6, 2015
After a day or so of searching, they found the dancing man. He set up a new Twitter account, @dancingmanfound, to thank everyone:
Just woke up to be greeted with so many more kind words. Big thanks again and am sure the charity will appreciate it as well. Thanks again

— Dancing Man (@Dancingmanfound) March 7, 2015
YAY TWITTER!!! @Dancingmanfound #FindDancingManWe are going to dance!!! pic.twitter.com/G7FxuiSsIh

— Cassandra (@CassandraRules) March 6, 2015
So obviously, plans for the huge dance party are underway, and as if that wasn't enough, a bunch of celebrities even offered to show up:
Hey @CassandraRules keep me posted about your dance party! @Dancingmanfound, never be ashamed of yourself. You are both truly #OTHER

— Pharrell Williams (@Pharrell) March 6, 2015
i offer my dj services for free for #DancingMan #DancingManFound #FindDancingMan . no one should ever be ashamed about dancing.

— moby Ⓥ (@thelittleidiot) March 6, 2015
@jayzombie Of course! This guy is totally a dance party master and I'm backing him all the way.

— ANDREW W.K. (@AndrewWK) March 7, 2015
[h/t Mashable]
[images via screengrab]
— —
Follow Josh Feldman on Twitter: @feldmaniac
Have a tip we should know? tips@mediaite.com
Josh Feldman - Senior Editor