Man Gets Teste With Airline That Spilled Hot Tea on His Crotch, Wins Big Payday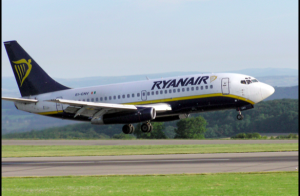 Anyone who has been lucky enough to do a college semester in Europe will undoubtedly tell you all about Ryanair; it's pretty universally known as the cheapest way to fly around the continent. Just make sure that your genitals are, you know, safely covered from scalding hot tea the next time you decide to fly cheap.
A man who reportedly incurred a bad burn during an August 2012 flight from Dublin to London has been paid out the equivalent of about $41,000 after a flight attendant apparently spilled hot tea onto his lap. The passenger — Ronald Furlong — took the airline to the Irish Circuit Civil Court in Dublin.
The Daily Mail reported that, "Mr. Furlong's genitals, thighs, groin and abdomen were hurt when the hot drink fell into his lap when being passed over him to another passenger."
The grievance (aside from the part of having little Ronny badly burned) comes from the fact that the airline staff failed to properly transfer the hot drink securely.
The Daily Mail continued:
The victim said that his social, domestic and recreational lifestyle had been 'interfered with' after he was burned.

Ryanair had prepared a defence and were ready to claim that they were not responsible and that it was his fault – spilling the drink himself.
I can only imagine the ways in which his social, domestic, and recreational lifestyle were interfered with after the incident. No word yet on when Ryanair will roll out its new advertising campaign for 2016: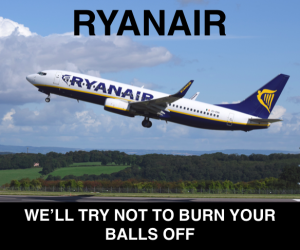 [image via Wikipedia Commons]
—
>> Follow J.D. Durkin on Twitter (@MediaiteJD)
Have a tip we should know? tips@mediaite.com