Man Tattoos Own Eyeballs, Ophthalmologist Shockingly Suggests You Shouldn't Do That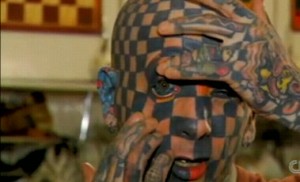 Dilemma: You've tattooed your entire head with a rocking checker pattern but your stupid eyeballs are right there in the middle ruining it by not following the color scheme. What do you do? If you said "Grab a needle and inject colored ink into your own eyeballs," then you're absolutely right! And by "right," I, of course, mean "as out there as Portland's Matt Gone." The tattoo enthusiast did just that.
You've got to give Gone one thing, he owns what he's done and he did it for himself. He started tattooing himself over 20 years ago in response to and to disguise birth defects which caused some of his muscles to be underdeveloped. In the video below, he tells reporters that the "tattoos make me not hate my body even though my body seems to be hating me." Good for him, I suppose, but seriously…needles in your eyes?!
Unsurprisingly, ophtamologists don't recommend tattooing your own eyeballs. From Portland's KPTV Fox 12:
"But some doctors believe Gone has gone too far with his latest design. Dr. Douglas Meier, an ophthalmologist with the Portland Clinic in Beaverton, said Gone is at risk for infection that could lead to blindness or could even cause him to lose his eyes.
'The risk of putting a needle near your eye is grave,' said Meier. 'Someone at home does not have access to the equipment nor the expertise.'
Gone said he knew the risks and he proceeded with caution.
'I patch tested it and was successful. I had to take the risk; I've done that a lot of times before,' said Gone. 'I'm not crazy. I'm trained. I have a lot of experience.'"
So, for all our readers who are seeing this article and want to follow Gone's lead (You never know. There might be a Mediaite reader who just really hates the phrase "whites of their eyes"), you might want to think twice before you grab the needle.
Check out CNN's video of Gone showing off his new tats below.
Have a tip we should know? tips@mediaite.com