Mar-a-Lago Guest Posts Photos of Trump and Prime Minister Abe Reviewing Confidential Docs to Facebook Page
Over the weekend, while Prime Minister of Japan Shinzo Abe visited with President Donald Trump at Mar-a-Lago, news broke that North Korea had launched a ballistic missile. The weapons test represented Trump's first true high-pressure national security situation, especially since North Korea poses a direct threat to Japan.
As CNN reported, Trump and Abe sat in the main dining area — surrounded by paid club members — and discussed the incident while pouring over confidential documents with members of Trump's staff, including National Security Adviser Michael Flynn and chief strategist Steve Bannon:
But as he sat down for the planned working dinner with Abe, whose country is well within range of North Korea's missiles, it was clear his counterpart felt it necessary to respond to the test. The launch occurred just before 8 a.m. on Sunday morning in Japan.

Trump's National Security Adviser Michael Flynn and chief strategist Steve Bannon left their seats to huddle closer to Trump as documents were produced and phone calls were placed to officials in Washington and Tokyo.

The patio was lit only with candles and moonlight, so aides used the camera lights on their phones to help the stone-faced Trump and Abe read through the documents.
Yes, you read that right. Cell phones were produced to be used as flashlights so they could read the documents out on a patio.
And we have photographic evidence that this occurred, via a dinner guest who posted his photos to his public Facebook page. (At time of publication, the Facebook user, Richard DeAgazio, appeared to have taken down his Facebook page.)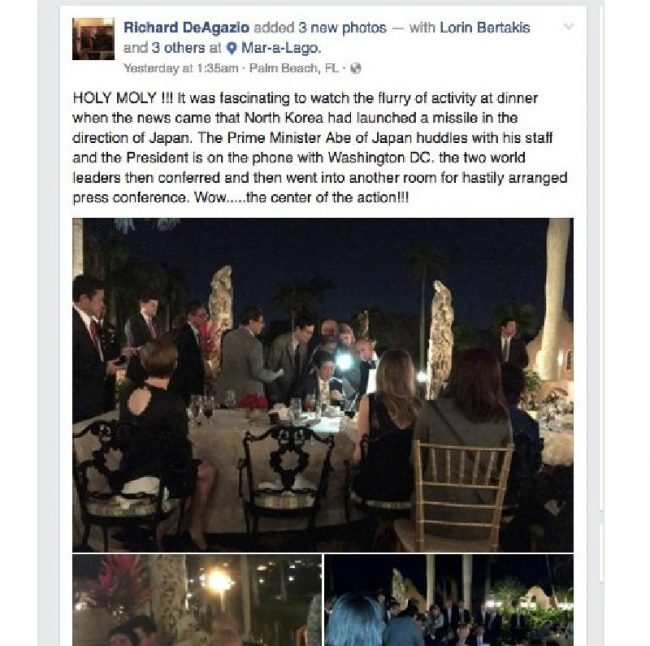 And it got better (or worse) — he also posted a photo of him posing with the man responsible with carrying the nuclear 'football' when the president is away from the White House.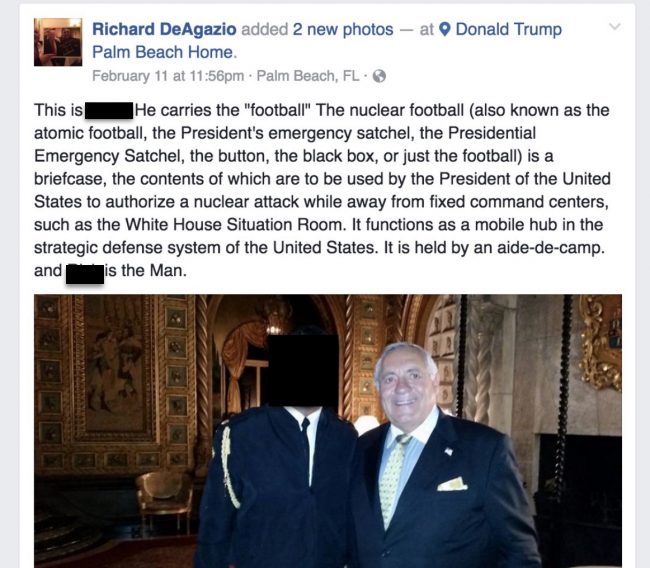 During the campaign, Trump hammered Democratic nominee Hillary Clinton numerous times on her use of a private email server, noting that she needed to go to jail over her treatment of classified emails,
[images via screengrabs]
——
Follow Justin Baragona on Twitter: @justinbaragona
Have a tip we should know? tips@mediaite.com