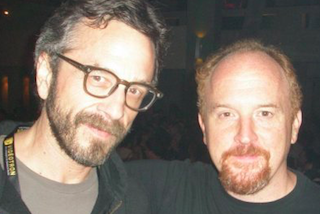 After he had gotten through all of the political talk in Monday's WTF podcast with President Barack Obama, Marc Maron asked him a question that he asks most of his guests: "Who are your guys?"
What Maron means when he asks that question is, which comedians shaped who you are as a person today? For Obama, the first names that came to mind were Richard Pryor, Dick Gregory, Jerry Seinfeld and Maron's old friend Louis C.K.. "Oh boy, you just made his life," Maron said after the president dropped Louis' name.
In a new podcast released Thursday, Maron spent more than an hour dissecting and reflecting on his talk with the president, including commentary from his longtime producer Brendan McDonald about how the whole thing came together over many months of communication — and was on the verge of falling apart after the Charleston shooting happened less than 48 hours before they were scheduled to record.
Towards the end of the podcast, in a portion recorded on Tuesday, Maron spoke specifically about the uproar caused by the president's use of the "n-word."
"There was a reaction that rippled through the media in this country about the president's use of the 'n-word,'" Maron said, understating the issue. "But, see, I don't see it that way. He said the 'n-word' to talk about the use of the 'n-word.'"
Even though he did some press, giving interviews to outlets like The Hollywood Reporter and appearing on MSNBC with Chris Hayes, Maron said he tried to avoid focusing solely on that 30-second moment from his hour-long conversation with the president.
"There was so much there!" Maron said. "And the context of it was very clear. He was talking about the broader problem of racism. He didn't use the 'n-word,' he said it to make a point about using the 'n-word.'" He added that he was "baffled" that the White House had to address that moment in its weekly press briefing.
Later, he said he spoke to Louis C.K. for about an hour following the interview. "He was thrilled that the president said the 'n-word' as well, he felt that that was important," Maron revealed.
Listen to the clip from today's WTF podcast below:
And download the full podcast at wtfpod.com.
[Photo via screengrab]
— —
>> Follow Matt Wilstein (@TheMattWilstein) on Twitter
Have a tip we should know? tips@mediaite.com