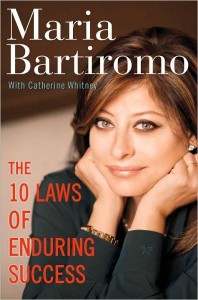 CNBC financial reporter Maria Bartiromo is on a publicity tour of sorts for her new book 10 Laws of Enduring Success, doing interviews and hitting the promotional party circuit. According to promotional material, the new book is "culled from her life story and her experience as a CNBC anchor and host/managing editor of Wall Street Journal Report, for which she's covered the rise and collapse of numerous business titans." Industry insiders are now questioning, in a book about her own rise to prominence, why Bartiromo neglected to include the man who gave her her start in broadcasting, Roger Ailes.
In a blog post on Huffington Post, Bartiromo describes the writing process for her book thusly:
While I was writing The 10 Laws of Enduring Success, I found myself looking in the mirror. I knew I was successful by my own measures, but I wondered, what if I woke up one day and I no longer had any of the external things that others (and, I admit, even I) regarded as proof that I was doing well? Could I still look at the woman in the mirror and say, "Maria, you are a success?" I wrote this book because I felt it was a crucial question to explore. This is a motivational book and a reminder that many of the tools for success are not external but entirely within us. I hope this book helps you tap into them.
Tools for success may be "entirely within us" but it typically takes someone to recognize talent to get one's first break. In the case of Bartiromo, that person was Roger Ailes, who hired Bartiromo when he was running CNBC (circa 1993-94), plucking the then unknown producer from CNN and giving her her first on-air job. He later put her on the floor of the NYSE and was one of the first in television to recognize the value of putting a woman in that role. Bartiomo has since become synonymous with Wall Street and has carved out a very impressive career on her own right from getting that initial start.
But insiders question why a book that outlines all the reasons for her own personal success, neglects to mention the executive responsible for hers. One source with knowledge of Bartiromo's contract negotiations tells Mediaite "she reaches out to Roger every time her contract is about to expire and Roger plays along (though not interested in hiring her for either of his networks) just so she could jack up the price on CNBC." And truthfully, her ratings have been down of late: April to date she's down 34% in viewers and 57% in demo, which followed a March that saw her ratings down 36% in viewers and 53% in demo. So her "success" may be fleeting.
The expectations for Bartiromo's book are pretty high, especially for those interested in these sorts of self-help-cum-wall-street narratives (and whose DVD of Working Girl has worn out). There is no question that Bartiromo is a big success in her own right, and she deserves a ton of credit for the unique place in broadcasting that she's carved out for herself. However her omission of Roger Ailes from her own professional history, especially in a story about success, is a remarkable one.
Have a tip we should know? tips@mediaite.com