Just this afternoon, the Wall Street Journal reported that Home Depot has agreed to a deal with Martha Stewart Living to sell a variety of the business tycoon's product lines, from outdoor furniture to home organization goods. But it was Stewart who personally broke the news via Twitter, linking to a press release on her personal feed ten minutes before the Journal's online story. Stewart wrote: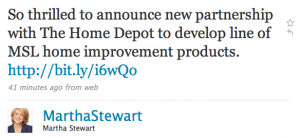 Minutes later, another tweet went out to Stewart's 1.4 million followers that read, "I am now follow @HomeDepot," succeeded by another message, reproduced below: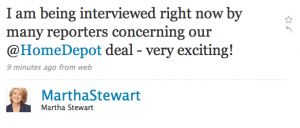 And finally, [sic] "just finished an interview with the atlanta constitution rachel ramos is a great reporter read story tomorrow."
In all, it was quite a string of free online advertising for the superstore chain, announcing the completion of a sure-to-be lucrative business deal on the latest and loudest online megaphone around: Twitter. Just last weekend we wondered what it meant to have a million followers, but it's clear that anything Martha says (or tweets) is guaranteed to reach a giant audience, leading us to wonder if Stewart was paid specifically for taking to Twitter or if a stipulation in her contract required certain online outreach. An initial call to Home Depot's press department was not returned.
Whatever the case, Stewart is obviously a savvy businesswoman and would probably be in the ethical clear, even without disclosure. As any successful manager of a personal brand knows, it's one of her responsibilities to get the word out. But with all of the money changing hands in this deal, the real irony is that Twitter won't score a cent.
Have a tip we should know? tips@mediaite.com