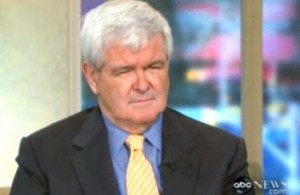 When I got this press release from my Asylum editors on Friday, I thought it must have been a gag. Newt Gingrich's American Solutions PAC had announced a seemingly odd selection for their Entrepreneur of the Year Award: (via email).
In a truly unexpected move, the Washington, DC-based political action committee "American Solutions for Winning the Future" (ASWF) has named Allison Vivas, President of the adult entertainment studio Pink Visual, recipient of its Entrepreneur of the Year award for 2009.
Sure, it seemed like an odd pairing, until I saw this banner. Try to guess if this is an ad from American Solutions, or the name of a new Pink Visual porn movie:
Alas, over the weekend, Gingrich got cold feet about the whole thing and rescinded the award. An American Solutions spokesman tried to pass the whole thing off as a "mistake," despite the fact that the letter they sent to Vivas included a hand-written note saying how much Newt was looking forward to meeting her face-to-face. It also said Newt wanted to "get (her) thoughts on cap-and-trade and Obama's tax policy." Is that what they're calling it these days?
The letter and the award seem to me like a well-designed vanity lure for deep-pocketed donors, rather than the result of intense desire on Newt's part to press the flesh with local businesspeople from across the nation. In this case, the sincerity of the pitch works against him.
I emailed American Solutions for comment, and to ask whether donations are solicited at this dinner. I am awaiting a reply.
Have a tip we should know? [email protected]