Massive 'Panama Papers' Leak Exposes Tax Havens Linked to Multiple Heads of State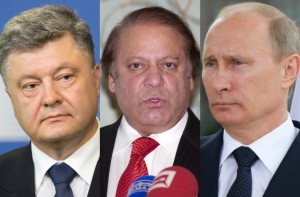 In what's being called the biggest data leak of all time, a number of news organizations went public today with revelations of the "Panama Papers"––exposing tax havens used and money laundering engaged in by world leaders and other members of the global elite, and how the law firm involved has helped move the money.
A grand total of 2.6 terabytes of data from the offshore law firm Mossack Fonseca was sent to journalists all over the world. Over 11 million files were leaked.
According to The Guardian, world leaders with significant offshore wealth are the prime minister of Iceland, the prime minister of Pakistan, the former vice president of Iraq, the current president of Ukraine, and Vladimir Putin.
And not only is Putin linked to $2 billion offshore, but people close to him have been reportedly involved in a money laundering ring.
There is a gigantic database here with primers on each and every individual in a position of power who has been linked to this massive corruption revelation, including the families of the leaders of Azerbaijan, Syria, Pakistan, Egypt, Morocco, Spain, etc.
Oh, and if that wasn't enough for a corruption scandal for you, FIFA's involved.
One journalist described Mossack Fonseca's services thusly:
This is always a really good opportunity to launder money. This is, they are doing really huge transactions from one country to another and they are hiding it and masking it in a way, so you really can't follow the money.
[image via Shutterstock]
— —
Follow Josh Feldman on Twitter: @feldmaniac
Have a tip we should know? tips@mediaite.com
Josh Feldman - Senior Editor