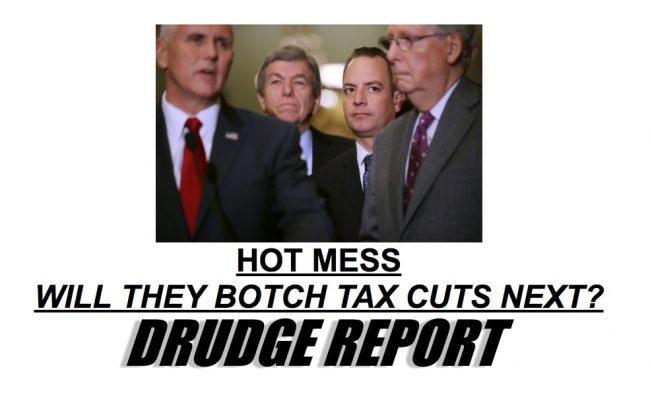 Matt Drudge is at war.
The mysterious Conservative firebrand whose influential website, Drudge Report, is one of the bedrocks of Republican thinking, has been relentless over the last 24 hours blasting House and Senate Republicans for the failure of Obamacare.
On Wednesday morning, under an unflattering image of Mitch McConnell, Reince Priebus and Vice-President Mike Pence, Drudge's website publicly asked "will they botch taxes next."
Pointedly, President Trump seems to have escaped Drudge's wrath — for now.
On Tuesday evening, as it became clear health care was just about dead, Drudge twisted the knife even deeper, posting a smiling image of President Obama, linked to an article about his his legacy, so far, remains largely intact.
? TROUBLE IN PARADISE? First image is of @DRUDGE_REPORT banner. Second is headline of story he's linking to. pic.twitter.com/az2ojX6iUa

— Oliver Darcy (@oliverdarcy) July 19, 2017
It's far from the only sign that there may be "trouble in paradise." During the highly contested Georgia special election, Drudge publicly suggested that his party deserved to lose, for not being committed enough to President Trump's agenda.
Drudge was also in no mood to give Don Jr. a pass when news broke of his secret meeting with a Russian lawyer.
Drudge Report makes its centerpiece story a photo of Red Square with two words "THE EMAIL" — and a link to NYT. pic.twitter.com/8J0Vs3x1V7

— Jennifer Jacobs (@JenniferJJacobs) July 11, 2017
The tough talk echoes the sentiments of known Drudge confidant Ann Coulter who has also grown very publicly restive about the current state of the administration. Last month she publicly trashed Trump on Twitter for lack of progress on the border wall.
Anyone in a Southwestern state who strolls to the border & drops a brick will have done more to build the wall than @realDonaldTrump.

— Ann Coulter (@AnnCoulter) June 16, 2017
[image via screengrab]
Have a tip we should know? tips@mediaite.com