Mayor Bloomberg Reportedly Asked Hillary Clinton To Be Heiress To His New York City Mayoral Throne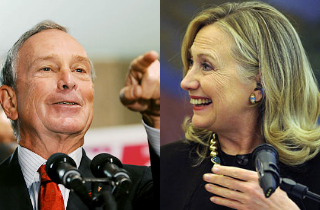 With seemingly no offspring interested in entering the political world (his daughters are successful in their own apolitical fields), New York City Mayor Michael Bloomberg is facing a bit of a question: Because that pesky thing known as "term limits" cannot be extended again, who shall receive the throne from him come 2014?
That new King or Queen of New York City, of course, could not be part of the petty bourgeoisie, nor could they be some middling bureaucrat with ambitious intentions. Nay, it should be someone with star power… glitz… and the capacity to rule with an iron fist.
And so, unsatisfied with any of the peasant-like "rumored candidates," Bloomberg tried to hand-select the Duchess of the Department of State Hillary Clinton to succeed his rule over those 8 million or so little people and protect them from themselves with the noble 16-ounce soda, public smoking, and trans fat bans.
The New York Times reports that three sources have confirmed that Bloomberg made a phone call several months ago in an attempt to convince Clinton to enter the 2013 mayoral race. He reportedly told her she would be the perfect fit for his golden throne in downtown Manhattan.
Per the Times:
Much about the call, which occurred some months ago, remains shrouded in mystery. But Mr. Bloomberg's overture to the former first lady highlights the level of his anxiety about the current crop of candidates, his eagerness to recruit a replacement who can rival his stature and his determination to become a kingmaker in the political arena he will soon exit.

In Mrs. Clinton, it seems, a mayor known for his sometimes unsparing critiques of those in public life sees a globe-trotting problem solver like himself.

During their conversation, Mrs. Clinton left little room for doubt: she was not interested in seeking the mayoralty, people briefed on the call said.
So there you have it, New York. The Clinton from Chappaqua has no interest in inheriting the throne.
And so before riding off into the sunset on a gold-plated horse, Bloomberg will likely have to continue with the expected plan of endorsing one of his ministers, Council Speaker Christine Quinn.
Full New York Times report here.
— —
>> Follow Andrew Kirell (@AndrewKirell) on Twitter
Have a tip we should know? tips@mediaite.com