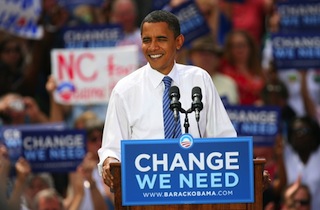 Exactly one year ago today, then-Senator Max Baucus (D-MT) sorta-kinda declared Obamacare a train wreck. What he actually said, in response to early warning signs that the administration was underprepared for the law's implementation, was "I just see a huge train wreck coming down." The two words were repeated ad infinitum by GOP critics, to the point that Baucus' warning began to seem like a verdict, one apparently vindicated when Healthcare.gov went live October 1 and fell flat on its face.

365 days later, and the Affordable Care Act topped 8 million sign ups. It's a partially symbolic overachievement. As TNR's Jonathan Cohn points out, the 7 million enrollment "goal" (which was really a projection) was hyped beyond its actual policy relevance — the exchanges had enough enrollees a while ago to be self-sustaining.
But as with everything Obamacare, there's a policy angle, and then there's the political angle. Lack of enrollment was never just about the functionality of the law; it was supposed to symbolize Americans' inherent rejection of it. Obamacare's failure and Obamacare's unpopularity were supposed to be one.
That isn't happening. It's not just the extra million enrollees, which is actually an extra two million on top of the Congressional Budget Office's revised projection of six million. Obamacare is performing strongly in other metrics as well. The uninsured rate is dropping, and fast, a number that's three times as good in states that embraced ACA provisions. Both the CBO and the Society of Actuaries project that premiums are expected to rise in 2015 at a lower rate than they did before Obamacare. Thanks to the lower premiums, the subsidies the government will pay out will be lower, by $186 billion over the course of a decade, the CBO's second positive revision of the law's costs. Health care spending is picking up after a recession-induced lag, but at a slower rate than before, in what could be the start of the bending of the cost curve so hoped for back in 2009. And insurance companies, far from being scared out of the marketplaces by overly sick patients, are entering into them.
Most important, the law is getting the uninsured insured. The RAND Corporation reported 9.3 million newly-insured people — that's newly insured, not people who lost their insurance and re-enrolled — a figure that didn't include the huge surge of enrollment in late March and early April. Despite the website's early trouble, the CBO actually revised its total projection of insurance gains over the next decade up by one million, to 26 million.
Did Obamacare hit all of its goals? Nope. We still don't know how many will actually pay their premiums, though insurance companies say the number thus far has been about 85%, which would equal 6.8 million enrollees after the smoke clears. That number also necessarily lags behind enrollment data, as people have up to six weeks after signing up for insurance to pay their first premium. The ACA also came in under its projection for the share of young enrollees it needs to keep the risk pools strong. 28% are estimated to be in the coveted 18-34 year old range, lower than the 38% the administration wanted. But that's also exactly what the Massachusetts exchange achieved its first year, while Gallup found that the off-market enrollees were younger than the exchange enrollees, and insurance companies blend the two into the same risk pools.
Meanwhile, public perception of the law is quietly and very slowly beginning to change, with the intensity of dislike for the law being blunted a bit. This is in no way, at all, to say that Democrats have an easy road in November, or that Obamacare won't be exploited to the hilt in red state Senate races.
But as the law's failure was supposed to meld with its unpopularity, it's also possible that its success could work as a solvent on its unpopularity. Senator Mark Begich's (D-AK) campaign showed how a positive Obamacare ad could proudly highlight the positives of the law. As those positives pile up, the viability of such an ad increases; meanwhile, Obamacare horror stories are disappearing as one after another gets debunked. And, let it not be forgotten, the GOP has tiptoed away from its repeal message, and is having trouble finding anything to say instead.
It's telling that Max Baucus never said Obamacare was a train wreck, but that it could be. On the anniversary of this remark, the law is firmly on track.
[Image via Action Sports Photography / Shutterstock.com]
——
>> Follow Evan McMurry (@evanmcmurry) on Twitter
Have a tip we should know? tips@mediaite.com