Media Falsely Report Michael Flynn Spread Conspiracy Theory That Led to Pizzeria Attack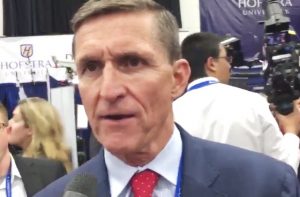 Contrary to reporting from many journalists and outlets, Republican president-elect Donald Trump's pick for national security advisor Michael Flynn did not spread or have anything to do with the #PizzaGate conspiracy that led a man to threaten a Washington D.C. pizzeria with a rifle Sunday.
Here's how The Washington Post reported on the PizzaGate attack, to give one example:
The restaurant's owner and employees were threatened on social media in the days before the election after fake news stories circulated claiming that then-Democratic presidential nominee Hillary Clinton and her campaign chief were running a child sex ring from the restaurant's back rooms. Even Michael Flynn, a retired general who President-elect Donald Trump has tapped to advise him on national security, shared the stories. None of them were true. But the fake stories and threats persisted, some even aimed at the employees' children. The restaurant's owner was forced to contact the FBI, local police, Facebook and other social media platforms in an effort to remove the articles.
WaPo evidently came to that conclusion based on an old tweet of Flynn's that reporters began spreading on Twitter after the attack.
U decide – NYPD Blows Whistle on New Hillary Emails: Money Laundering, Sex Crimes w Children, etc…MUST READ! https://t.co/O0bVJT3QDr

— General Flynn (@GenFlynn) November 3, 2016
Trump's national security adviser saying #fakenews #pizzagate story is a"must read" days before the election.
He's never refuted the story. https://t.co/d2NQCgPoNo

— Victoria Brownworth (@VABVOX) December 5, 2016
This person tweeting fake news that led to man with gun at pizza spot is Trump's National Security Officer. We are all going to die. https://t.co/nvDFZnGUqD

— Joseph Kahn (@JosephKahn) December 5, 2016
Your new national security advisor https://t.co/W9cnnrA44O

— Josh Marshall (@joshtpm) December 5, 2016
This tweet was part of an underground cesspool of grotesque nonsense that could have gotten someone killed today. https://t.co/YE5VcTd6Qu

— Elliott Lusztig (@ezlusztig) December 5, 2016
Alex Jones, Michael Flynn & other Trump supporters pushed false Pizzagate. Today a man with gun seized at Comet Pizza. Utterly deplorable.

— David Corn (@DavidCornDC) December 4, 2016
1. Gen Flynn tweets about Fake HRC Comet Pizza conspiracy. 2. Comet gets threats. 3. Gunman enters Comet today. https://t.co/vS3cv2F6ui

— John Aravosis (@aravosis) December 4, 2016
Flynn absolutely has a history of pushing conspiracy theories, but not the "Pizzagate" theory.
Clicking through the link in Flynn's tweet brings up a story from TruePundit.com, a proprietor of unsubstantiated "news," supposedly from the NYPD. The "sex crimes w/ children" in the title refers to Anthony Weiner, the husband of a Clinton advisor who actually is under investigation for soliciting minors. The Washington Post has since corrected its initial piece and wrote a separate one confirming "Michael Flynn's tweet wasn't actually about #PizzaGate."
Unfortunately for Flynn, whatever moral high ground he may have had on this issue evaporated pretty quickly once his son Michael Flynn Jr. did come out and defend PizzaGate.
[Image via screengrab]
—
>>Follow Alex Griswold (@HashtagGriswold) on Twitter
This is an opinion piece. The views expressed in this article are those of just the author.