W. Kamau Bell Reveals a Klansman's Prank From Behind-the-Scenes of His New CNN Series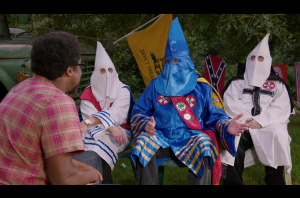 In one of the opening scenes of the new CNN series United Shades of America, towering black comedian W. Kamau Bell — formerly of FX's Totally Biased — drives down a dark road at night to meet with a member of the Ku Klux Klan. Before the viewer can even come to terms with the fact that the Klan is as active as it is in parts of the deep south, Bell is standing mere inches from a hooded white man who identifies himself as the Imperial Wizard of the International Keystone Knights — in other words, Mr. President.
"I'm white and I believe in the ideals, rituals, and beliefs of the Ku Klux Klan. I was raised that way," he tells the comedian, who is busy looking around to ensure his safety. "This is always gonna be Klan regalia," the man in white says.
Bell carefully buoys his responses, but follows up to clearly develop an understanding of the man's stance on race relations. "I'm proud of my race. I'm proud to be white," replies the man.
And before Bell, who diffused the situation through his humor and some light-hearted cracks, turned to walk back to his car here in the deep backwoods of Arkansas, the Klansman plugged his own website (www.ikkkkk.org/), a reminder that even the newest generation of the KKK thrives through branding efforts and digital savvy.
And with that, Kamau Bell's new series United Shades of America begins: a twisted and hilarious look into the diverse communities of Americans using comedy as the mechanism to open up meaningful discussion.
"A lot of travel shows take people places they want to go. This takes me to places where I'm like, 'Do I have to go?'" Bell tells me in a phone interview. United Shades of America is, after all, often a study of controversial — or at least wildly misunderstood — ways of life.
Barrow, Alaska. Camden, New Jersey. East LA. Portland, Oregon: all places that Bell took the show to engage with diverse communities of Americans.
His must-see visit with Klan communities in the premiere episode is a powerful way for the series to begin (make sure you stick around for the big cross burning scene. Oh, sorry, "cross lighting," as they call it). But it's hardly the only remarkable community he visits; Bell also makes a compelling trip to San Quentin prison in the Bay Area, the stop on his Shades tour that the comedian told me was his favorite of the whole series.
The viewer hears one thing: "San Quentin," the famous penitentiary thought of as the ultimate final destination for the nation's worst criminals, may of whom are on death row. In actuality, as Bell uncovers, it's a community of people who once made mistakes and are largely on a remarkable path towards rehabilitation. At San Quentin, Bell meets self-taught financial whiz kids and war veterans who served our country with distinction; he even works alongside the men who produce the San Quentin News, the media outlet produced by prisoners that allows for anyone interested to write, report, and cover stories applicable to their lives.
Not exactly the stuff you think of from your years watching prison yard movies, is it?
It's a powerful experience for the comedian, one that ends of course with Bell walking out the front doors of the prison while his newly-found friends continue their sentences; one of the episode's recurring themes is just how badly the bureaucracy of the U.S. prison system prevents many prisoners from speedy or fair sentencing. It's a stark reminder of the fragile and devastated lives in our prisons, and a fascinating glimpse into the journeys of people we think we have nothing in common with.
"The themes are prevalent to the current era of America," Bell tells me about the show overall. It's tough for me not to notice that many of these issues raised in Shades draw directly to hotly-debated issues on the 2016 campaign trail. The Klan episode was shot in August 2014 — "way before talk of future President Trump," Bell tells me — and the recent revival of sorts of the KKK to campaign storylines makes the conversations behind the show as relevant as ever.
But it is Kamau Bell's background as a stand-up comic that drives the dialogue and meaningful conversations in the series. The episode's are even interspersed with Seinfeldian cuts of Bell performing stand-up sets to a crowd as he details his experience. During our phone interview, Bell tells me that Shades is rooted in his ability to connect with others through the mechanism of his humor. "When you're having a conversation with anybody and they're laughing, you now they're paying attention… laughter connects people. If I'm talking to a Klans member and he says 'Black people are the worst', etc. and I make him laugh with something I say, in that moment, all that stuff goes away."
Before hanging up, I asked Bell to let me in on anything from behind-the-scenes of his stirring visit to Klan communities in the south that didn't make the final edit. As he revealed to me, some of the most shocking moments from his perspective didn't even happen on camera at all.
"When we went there, it was in the middle of Ferguson," Bell says. "And the Klan member who I colloquially refer to as 'Klan Smurf', he was really fired up about Ferguson. When I first got there, he clearly had rehearsed a rant, and he just went off. And even though it was scary and over the top, I thought it was great."
But not everything was "great" from Bell's perspective, however; one Klansman decided to play a little joke on the black comedian when he arrived into town. "He walked up to me with a plastic bag. And in the bag was iced tea and Skittles: it was a Trayvon Martin-Klan joke," Bell recounted, referring to the items that the black teenager was reportedly carrying when he was gunned down by George Zimmerman in 2012. But in typical Kamau Bell spirit, the comedian took the high road and had the last laugh.
"I said to myself, 'Why didn't you do this on camera, idiot? You definitely wouldn't made the episode!'" he says.
He may not be on a network that is dominated by a well-known comedy landscape, but Bell is just fine with the show working its way to CNN. "CNN's a huge megaphone," for these sorts of stories to get told, Bell tells me. Without a long-range of comedy programming to determine "what's funny" through a pre-established brand, Bell likes being the first comedian to helm his own show: "At CNN, I'm the definition of what comedy is currently."
United Shades of America debuts this Sunday night at 10 p.m. after Anthony Bourdain: Parts Unknown on CNN as part of the network's Original Series slate of programming.
—
J.D. Durkin (@jiveDurkey) is a columnist at Mediaite.
[image provided courtesy of CNN].
This is an opinion piece. The views expressed in this article are those of just the author.