Mediaite's Morning Reading List: State Exchanges, GOP Senate Hopes, and Geraldo's Revenge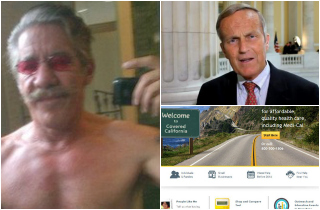 Every a.m., Mediaite publishes a primer of what the interweb machine is writing, talking, tweeting, and blogging about, so that you may fool friends and family into thinking you are a trove of information and insight. Today: Obamacare IT successes, a bill to make sure its IT failures never happen again, how the GOP could fumble its Senate opportunity, and the continuing evolution of ye olde English language.

"Healthcare Plan Enrollment Surges in Some States After Rocky Rollout" (Noam N. Levey, Los Angeles Times)
For your latest shot of woeful Obamacare news, check out the WaPo/ABC poll, perhaps with a whiskey back. Howevs, the Los Angeles Times reported today that enrollment "is surging in many states as tens of thousands of consumers sign up for insurance plans made available by President Obama's health law." California, for instance, doubled its October enrollment in the first two weeks of November, while states like Minnesota and Washington are seeing enrollment rates triple.
* Related Reading: "Signing Up for Health Insurance in California Was Hell, But I'm Glad I Did It" (Eric Kingsbury, New Republic)
"Congress Embarks on Government IT Reform" (Clara Ritger, National Journal)
No matter what you think of the Affordable Care Act, all sentient humans can agree that the IT procurement process for Healthcare.gov was something that rhymes with rain check. If you thought to yourself, "Congress oughta draft a bill to fix that!" Representative Gerald Connolly (D-VA) is way ahead of you. Connolly pushed the Federal IT Acquisition Reform Act (FITARA) through the House earlier this year, and hopes the problems with the federal exchange website will give it the momentum to pass the Senate. (Maybe it can take a few judicial nominees with it.)
"If FITARA had been law during the development of HealthCare.gov," Connolly told NJ's Clara Ritger, "President Obama would have been authorized to appoint his own chief information officer at the Department of Health and Human Services, and this individual would have both served as Secretary Sebelius's primary adviser on IT management, and been empowered to recruit top IT talent and manage critical IT investments, such as HealthCare.gov."
"Republicans Have a Way To Retake the Senate—If Only They Had the Candidates" (Kevin Brennan, National Journal)
Just as Democrats salivated over retaking the House during the government shutdown, Republicans are now drooling over capturing the upper chamber thanks to the unpopularity of Obamacare. But while the party has recruited competitive candidates for marquee races, its ranks thin out among "second-tier races, the ones that could suddenly become competitive if the national mood turns increasingly toxic for Democrats."
Brennnan reminds God and everybody that candidates matter, as the GOP squandered its senatorial dreams in 2010 on candidates like Christine O'Donnell and Sharron Angle, and again in 2012 on Todd Akin and Richard Mourdock.
* Related Reading: "Mitch McConnell Reasserts Senate Leadership Following Obamacare Defunding Debacle" (David Drucker, Washington Examiner)
Non-Political Read of the Day: "English Has a New Preposition, Because Internet" (Megan Garber, Atlantic)
English language trend-spotting in real time. Highly recommended, because fascinating. (This humble scribe will mention that he used the New Because just yesterday.)
Totes Millennial Intern iPhone Miley Cyrus Podcast Dealie: "Word Of The Year: Selfie" (NPR)
Runners-up: "binge-watching" and "twerk." Listen to NPR's brief segment and you can impress (?) people by knowing selfie's country of origin.
Oh, and stay for the afterparty: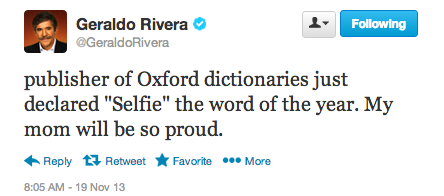 ——
>> Follow Evan McMurry (@evanmcmurry) on Twitter
Have a tip we should know? [email protected]