Meet the New Proud Boys Leader: A Lawyer Known for Violent Threats and Racist Rhetoric (UPDATE)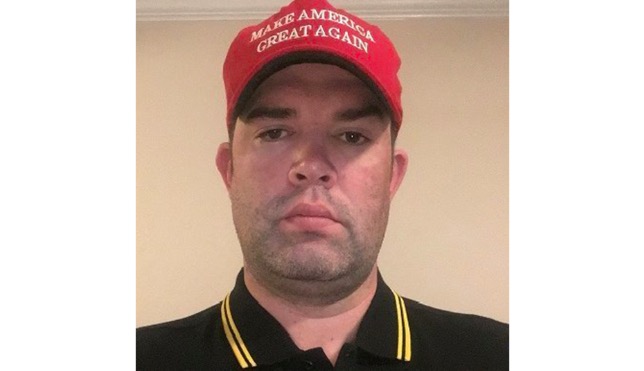 CRTV host and far-right media fixture Gavin McInnes has abandoned the Proud Boys, after the FBI classified the "fraternity" he founded as an "extremist group". In his stead, the group whose members have been known for politically motivated street violence appointed lawyer Jason Lee Van Dyke to lead them in passing their new bylaws.
Proud Boys members have made headlines for violence in recent months (carrying on a trend: members of the group also took part in the deadly Unite the Right rally in 2017) by holding violent brawls in the streets of New York City and Portland, Oregon. These incidents, some of which were filmed and shared on social media, quickly triggered widespread media outrage, caught the attention of federal law enforcement, and led to the arrest of numerous Proud Boys on charges of rioting and assault.
NBC News reported this month that FBI internal documents described the group as an "extremist group with ties to white nationalism."
Before their new bylaws — i.e., the gang's changed internal rules — were passed over the weekend, the Proud Boys announced their libel suit-obsessed lawyer, Van Dyke, took over as their new leader to pass them. The group also affirmed that there is no bad blood toward McInnes, though they maintained the founder never served as the group's leader.
Van Dyke didn't start Vice, nor is he a washed-up punk rocker, but the lawyer does have something in common with McInnes: the use of violent rhetoric and racist comments.
In court filings tied to a libel suit filed by Van Dyke on behalf of the Proud Boys, controversial tweets from the lawyer resurfaced.
"Look good and hard at this picture you fucking n*****," he wrote in one tweet dated to 2014, which included a photo of a noose. "It's where I am going to put your neck."
In another post on his now-banned Twitter account, Van Dyke wrote, "Your kiddies are quite a nuisance. My advice: run and hide. If I find you, I WILL kill both you and your family."
Van Dyke admitted to posting these threats and slurs, but claimed to HuffPost they were made after his Social Security number was stolen by hackers. "I regret my choice of words, but I absolutely do not regret threatening those people," he said.
Per watchdog site Right Wing Watch, he even once admitted to being "very close to 'coming out' as a full blown fascist."
In another post, Van Dyke shared a photo of himself decked out in tactical gear and holding an AR-15 variant along with the threatening caption, "If you mess with my career ( the one that requires me to wear a suit), I might be dressed like this the next time you see me!"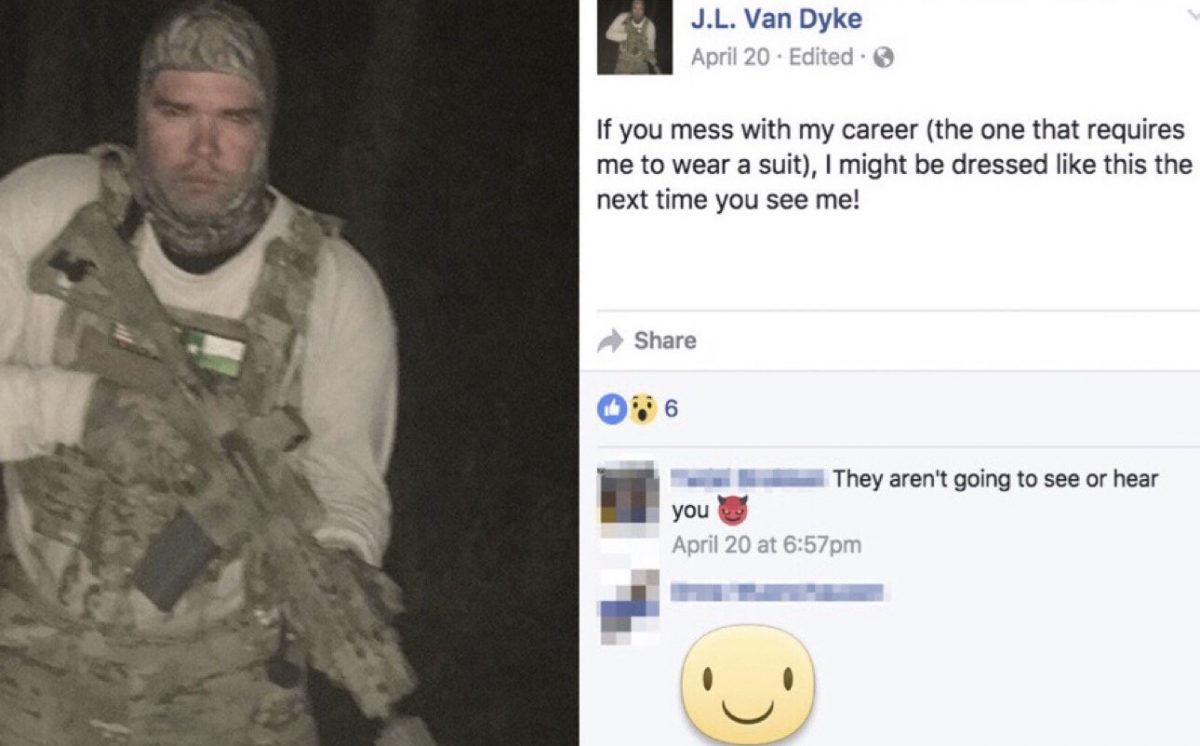 Van Dyke was also arrested in September of this year after allegedly filing a false burglary report with police.
The lawyer is also renowned, amongst journalists who cover extremist groups, as being absurdly litigious. Van Dyke aggressively blasted out cease and desist letters to news outlets — including Mediaite — that covered the Proud Boys and its extreme elements.
Van Dyke release the following statement regarding his position in the club: "I occupied the position of chairman for a grand total of about 36 hours and that was only to pass the bylaws that are attached here. Now that they have been passed, I occupy no position with the organization."
In the week since the FBI got involved, the Proud Boys have started falling apart — with its two most high profile members, McInnes and Milo Yiannopoulos, publicly cutting all ties with the group.
"I'm officially disassociating myself from the Proud Boys, in all capacities, forever. I quit," McInnes said in a YouTube video titled "GAVIS McINNES QUITS THE PROUD BOYS." In the video, he blamed the group's trouble with the law on reporters. He also explained that his leaving the group may mean softer sentences for the eight Proud Boys charged in New York.
"I am told by my legal team and law enforcement that this gesture could help alleviate their sentencing," McInnes said.
Yiannopoulos published a post on his blog explaining that since "I am not yet a citizen," he cannot be associated with a group under FBI surveillance.
"Gavin's statement today is both understandable and necessary," he added. "It saddens me to have to join him in saying good-bye to the Proud Boys, because I know, from my own personal experience, how terribly wronged they have been."
UPDATE: This article has been updated to include a response from Van Dyke. The Proud Boys' new bylaws were also added in the change.
[images via Twitter]
Have a tip we should know? tips@mediaite.com