Meghan McCain on Trump Phone Call: 'I Don't Believe' He'll Mock My Father's War Injuries Again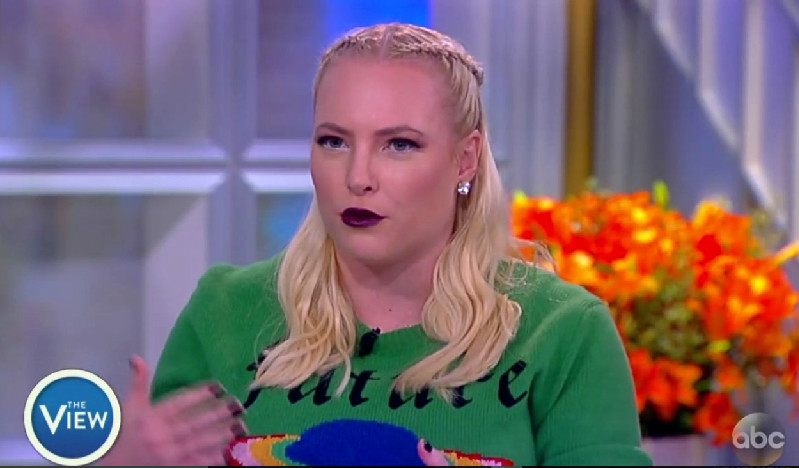 Meghan McCain revealed she has spoken to President Donald Trump about his frequent and personal attacks on her father, Sen. John McCain.
Appearing on Anna Palmer's Politico podcast Women Rule, McCain spoke about being the sole conservative on The View, saying her father — who is currently battling glioblastoma — urged her to join the show.
Palmer asked McCain how "hard" it is that Trump has singled out her father.
"I hate it," Meghan said, adding that when reports came out that Trump reportedly mocked her father's war injuries, "I was deeply hurt by it."
She continued that Trump later reached out to her, and they "had a very nice conversation," adding that the president is unlikely to mock her father again.
"I don't believe he would go there again," she said. "I don't think at this point in his administration it would be beneficial to him in any way."
"It's very difficult," she added. "I don't understand the contention."
Despite belonging to the same party, Sen. McCain has been a consistent thorn in Trump's side, calling him out in op-eds, statements and strongly worded tweets.
Trump, for his part, has long been fond of trashing the Arizona Republican. Most infamously, perhaps, was when then-candidate Trump suggested McCain was not a war hero because he was captured in Vietnam.
It was reported last year that Trump had mocked McCain's 'thumbs-down' vote against the GOP health care bill. McCain lost full function of his arms after he was tortured for five years as a POW in Vietnam. At the time of those reports, Meghan McCain called the president's actions "abhorrent."
Listen to the full interview here.
[image via screengrab]
—
Follow Aidan McLaughlin (@aidnmclaughlin) on Twitter
Have a tip we should know? [email protected]
Aidan McLaughlin - Editor in Chief