Megyn Kelly Dishes on Everything She Learned From 'Ultimate Gentleman' Bill Hemmer at Fox News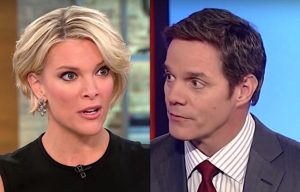 Megyn Kelly's future with Fox News may not be entirely known, but that didn't stop the fan-favorite nightly anchor from heaping praise on one of her colleagues.
Speaking to Erik Wemple of the Washington Post, Kelly gave a wide-ranging interview on her Fox tenure, contract negotiations, and work-life balance that was released Monday morning. Wemple brought up Kelly's recent book — Settle For More — and a nod she gives to one of her longest-running cohorts: Bill Hemmer of America's Newsroom.
"How important was he and what exactly did he mean to you in terms of your ascension at Fox News?" asked Wemple.
"He had a huge role in my development because we were not only partners; we were in some respects mentor and mentee, me being the mentee," responded Kelly about Hemmer, who continues anchoring America's Newsroom late mornings alongside Martha MacCallum. Kelly told Wemple that despite the disparity of their positions or perceived levels of experience at the beginning of their work tenure, she notes that they were more of a "partnership" by the time she left.
"I'd never been a TV anchor before; I'd never been employed as a TV anchor. So, I mean, Hemmer is the ultimate gentleman," Kelly continued. "I have never seen him have anything but a kind word and a generous lens for people. If he gets frustrated or angry or upset, I have never seen it, and I have spent a lot of time with the guy."
She continued by recounting a personal family anecdote about Hemmer that demonstrates her point exactly.
Bill used to call it "boot camp TV" what we were doing on "America's Newsroom" and he was right. But, man, he's unflappable. Sometimes that's when you see [people's] dark side, when the stress hits and they start yelling at people and they're nasty. NEVER. I'll give you an example, just of Bill Hemmer which sums up his personality. It was at my engagement party to Doug. Hemmer was there. Doug's parents were there; they were 70 and 80, thereabouts. . . . They needed to leave. [Confusion arises over how they would get a ride] Hemmer steps in and he's like, "I will get them a taxi." So he takes Dr. and Mrs. Brunt out to the sidewalk, he hails them a taxi, he gets them into the taxi, he gives the address to the taxi driver, then he tells the taxi driver what radio station to put on because he thinks Dr. and Mrs. Brunt would enjoy their 10-minute ride more with this music in the background. Doug's dad has since passed away but his mother still lives for Bill Hemmer.
Bill Hemmer, you could choose the music in my taxi any day. Read Wemple's full interview with Megyn Kelly at the Erik Wemple Blog/WaPo here.
Have a tip we should know? tips@mediaite.com