President Elect Donald Trump likes to put his name on things. He will license it out to buildings that he doesn't own, board game manufacturers, and steak distributors for some reason, plus he has his own range of in-house merchandise stemming from his campaign. As part of his "Thank You Tour," that last one has been updated, and one of the new items is a doozy. In the tradition of the bright red "Make America Great Again" hat, Trump has put his brand on another iconic red item: The party cup. A typically disposable item bought in bulk, Trump is charging an astounding $23.00 for a pack of four, each presumably representing one year of his presidency.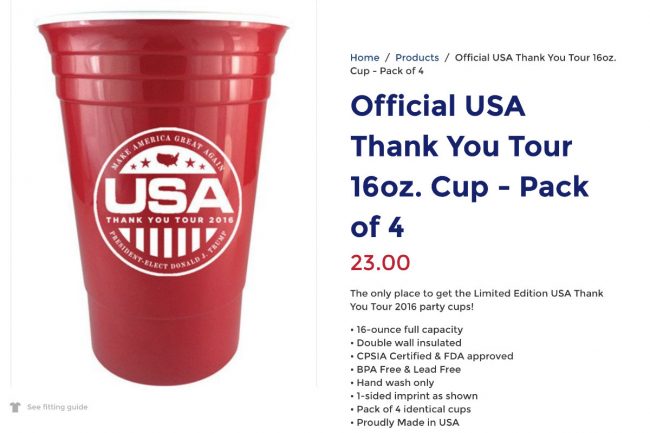 Maybe it just looks like the iconic red cup manufactured by SOLO that can be seen at frat houses throughout the country every weekend. Maybe they're actually reusable cups. The description doesn't give much hope for that, as it specifically refers to them as "party cups" (the same branding that SOLO uses) and includes a "hand wash only" disclaimer. For reference, the first Google result for buying a package of the cups sans logos, at Walmart's website, offers a 50 pack for $6.27. That's a little under 13 cents per cup, so if these really are just SOLO style cups with a logo stamped on them, then the markup for the Trump "Thank You Tour" imagery is a whopping 46x.
For comparison, a six pack of "Thank You Tour" can koozies goes for $20, or $3.33 each. Which, again, makes you really hope that these are reusable cups that just look like SOLO cups. Even if they are, $5.75 for a cup that you can't put in the dishwasher isn't a very good deal.
Update: Commenters have pointed out that Amazon and its third party sellers carry various reusable SOLO-styled cups, but unlike the Trump cup, they're all dishwasher safe.
Have a tip we should know? tips@mediaite.com