Melissa Harris-Perry Guests from Romney Grandson Segment Offer Various 'Apologies' on Twitter
MHP Guests from Romney Grandson Segment Offer Various 'Apologies' on Twitter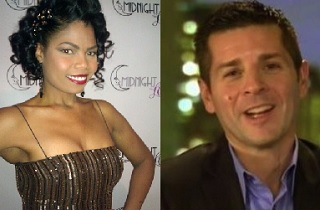 A segment from Sunday's Melissa Harris Perry show, which featured several guests making jokes about a Romney family photo, has blown up into a media story of national interest. Guests Dean Obeidallah and Pia Glenn each made observations about Mitt Romney's adopted grandson Kieran Romney, who is black. While the host has not responded to the controversy herself, Obeidallah and Glenn took to Twitter to offer their own defenses, and various levels of apologies.
In case you missed the segment, you can watch it here. Pegged to a rundown of the "photos of the year," Harris-Perry introduced the Romney photo by saying "Everybody loves a baby picture, and this was one that really, a lot of people had emotions about this baby picture this year. This is the Romney family. And, of course, there on Governor Romney's knee is his adopted grandson, who is an African-American, adopted African-American child, Kieran Romney."
Panelist Pia Glenn reacted by singing "One of these things is not like the others, one of these things just isn't the same," a tune whose original lyrics read "one of these things doesn't belong."
"And that little baby, front and center, would be the one," she added.
"And isn't he the most gorgeous?" Harris-Perry said. "My goal is that in 2040, the biggest thing of the year will be the wedding between Kieran Romney and North West. Can you imagine Mitt Romney and Kanye West as in-laws?"
"I think this picture is great," Obedeillah said. "It really sums up the diversity of the Republican party, the RNC. At the convention, they find the one black person."
The story has now attracted the ire of cable news personalities on both Fox News and CNN. On Twitter this afternoon, Dean Obeidallah defended his participation, and offered an apology of sorts, in an exchange with me, and several others, including a United States Congressman. You can read more of the exchange here, but this is the apology Dean offered:
@DLoesch I apologize to the baby if the baby was offended by my joke mocking GOP's lack or racial diversity.

— Dean Obeidallah (@Deanofcomedy) December 30, 2013
I want to apologize to any Republican offended by my joke that GOP is not racially diverse. I truly hope GOP never changes-its perfect!

— Dean Obeidallah (@Deanofcomedy) December 30, 2013
Dean also emailed a statement to CNN, apologizing to the Romney family:
"Occasionally my jokes have been known to 'cross the line' and I can assure you that in the future some of my jokes will do that again," he said. "My joke on MHP was not intended in any way to mock the Romney family or the baby they adopted. Rather it was a joke about the lack of racial diversity that we see at the Republican National Convention. I apologize to the Romney family and especially the baby if any of them were offended by that joke."
Entertainer Pia Glenn also engaged criticism on Twitter, and while also defensive, she offered a sincere apology to adoptive parents:
Have a tip we should know? tips@mediaite.com