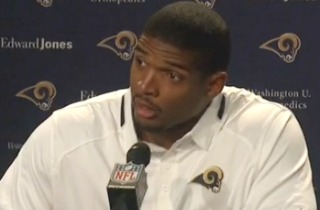 Michael Sam, the first openly-gay professional football player, appeared on The Dan Patrick Show to talk about why he stepped away from the sport shortly after joining the Canadian Football League.
Sam's stated last month that he was walking away due to "mental health" reasons, but said today that he thinks he would have never left the NFL if he didn't come out while being drafted from the university of Missouri.
"I wanted to come out after I made an NFL roster, it really wasn't supposed to be public," Sam said. "It probably would have been better for me if I didn't come out, I would be on a roster. But, as I said, I have no regrets whatsoever."
Sam's career in the NFL was notably short, having been cut from the Rams before the start of the 2014 regular season, and again later from the Cowboys. Sam eventually tried a brief stint with the Montreal Alouettes, but said that he felt the experience wasn't making him better, and was distracting him from joining the NFL.
"I wasn't getting better as a football player, that was one of the main keys,"Sam said. "It was a different defense, a defense I wasn't used to, and all the stuff I learned from the Rams, the Cowboys, I thought I was losing that technique in Montreal."
Sam spent the rest of the interview talking about his plans to keep training, rejoin the NFL and to finally make it into regular season.
You can watch the video above (starting at 4:15) for Sam's remarks.
[h/t Hollywood Reporter]
[Image via screengrab]
— —
>> Follow Ken Meyer (@KenMeyer91) on Twitter
Have a tip we should know? [email protected]