Michael Steele Feeling Heat For Declaring Afghanistan 'A War of Obama's Choosing'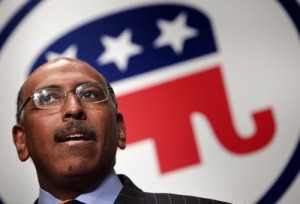 Michael Steele attended a Republican Party fundraiser in Connecticut yesterday, and an amateur video camera captured comments made by the GOP National Committee chairman declaring that the war in Afghanistan "was a war of Obama's choosing," that America had not "actively prosecuted or wanted to engage in." Steele was replying to a question regarding General McChrystal's recent resignation, which Steele called "very comical." According to Talking Points Memo, "top Republicans" are already piling on Steele for the seemingly untoward gaffe.
Writing for CBSNews.com's Political Hotsheet, Brian Montopoli reports:
Steele also said of U.S. military involvement in Afghanistan: "This is not something the United States had actively prosecuted or wanted to engage in."

The United States and its allies invaded Afghanistan in October 2001, less than a month after the Sept. 11 attacks.

Steele's comments were caught on amateur video and posted to YouTube. (See it below.) In the video, he can be heard suggesting that President Obama failed to understand that waging war in Afghanistan has been shown throughout history to be a losing proposition. Steele also suggests America should have a "background" role in the country, "sort of shaping the changes that were necessary in Afghanistan as opposed to directly engaging troops."
GOP leaders do not seem to be pleased with Steele's comment; already Weekly Standard editor Bill Kristol has published "A Letter to Michael Steele" that says, among other things, "There are, of course, those who think we should pull out of Afghanistan, and they're certainly entitled to make their case. But one of them shouldn't be the chairman of the Republican party."
But that's just the start of the political push back – or friendly fire – that he's receiving from Republicans. Writing for Talking Points Memo, Brian Beutler reports:
In an interview this afternoon, a livid, top GOP operative put it more bluntly. "This is the height of stupidity and epitomizes the problem that is Michael Steele."

A separate GOP operative passed along a comment Steele issued late last year when President Obama agreed — as Republicans were pressuring — to send additional troops to Afghanistan.

I'm told that more high profile Republicans — operatives and electeds — will come forward shortly with condemnations, and even demands of resignation, later today. Stay tuned.
Michael Steele's stint as GOP National Committee Chairman has not been not been without controversy, though he's been able to avoid serious trouble up to this point. Perhaps the best part of this story for Steele is that it broke on the Friday before a three-day holiday weekend.
Have a tip we should know? tips@mediaite.com
Colby Hall - Founding Editor