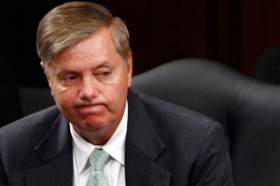 It seems like political sexual attacks are the order of the day. On the heels of Kathleen Parker's asinine assault on President Obama's "manhood" (deliciously deconstructed in a must-read post by Rachel Sklar) and in the context of a debate over the "womanhood" of Supreme Court nominee Elena Kagan, Sen. Lindsey Graham has dropped a hilarious response to those on the right who have accused him of being blackmailed over his supposed secret gayness.
Buried in a lenghty New York Times Magazine profile of Senator Lindsey Graham (R-SC) is this gem of a quote, over politically motivated speculation that the bachelor lawmaker is gay:
"Like maybe I'm having a clandestine affair with Ricky Martin," he said. "I know it's really gonna upset a lot of gay men — I'm sure hundreds of 'em are gonna be jumping off the Golden Gate Bridge — but I ain't available. I ain't gay. Sorry."
That's okay, Lindsey, I'm sure the fact that you don't have Ricky Martin locked down will balance out some of the disappointment. Some.
While Graham's response is pretty damn funny, the accusation behind it is anything but. The reduction of our political discourse to cries of "Sissy!" and "Dyke!" is indicative of a dearth of real ideas or solutions which Graham illustrates nicely, elsewhere in the piece:
On four occasions, Graham met with Tea Party groups. The first, in his Senate office, was "very, very contentious," he recalled. During a later meeting, in Charleston, Graham said he challenged them: " 'What do you want to do? You take back your country — and do what with it?' . . . Everybody went from being kind of hostile to just dead silent."
More importantly, it is harmful to our growth into a tolerant, civil society. Just as Parker's idea of manhood is a poor goalpost for young men, and her acceptance of the premise that womanhood equals weakness, the idea that gayness is a blackmailable stain contributes to an environment where people, especially young people, are bullied for being themselves.
On that count, Graham himself is of little help. He's a strong opponent of gay marriage, having supported a Constitutional ban, and voted in favor of banning gay adoptions in DC.
The balance of the Times piece talks about how Graham has been re-cast as the new John McCain, someone who is relatively open to compromise with the White House. That's a pretty low bar, but it also puts me in mind of the recent reversal of Gen. David Petraeus' fortunes on the left. Once pilloried as "General Betray Us," there has been little outcry now that he's President Obama's guy. What a difference a year makes.
Have a tip we should know? tips@mediaite.com