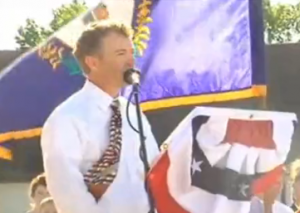 Speaking at a tea party rally in Kentucky Thursday night, Senate hopeful Rand Paul compared the country's economic decline to the days leading up to the fall of the Roman Empire. He went on to warn that a "day of reckoning" is to come.
Paul's comparison went along the lines of (via Huffington Post):
"In the latter days of Rome, the economy was crumbling, the emperor … would placate the mob with bread and circus — food and entertainment to placate them since the economy was in shambles and dwindling around them.

"Now in our country, as our economy is in shambles, they give us Cash for Clunkers and a stimulus check and they tell us to go to the mall and spend your money and everything will be OK … That's not how you become prosperous as an individual or a country."
Paul's campaign manager, Jesse Benton, said the allusion to the fallen empire was an analogy intended to emphasize the state of the country's economy:
"Rand is deeply concerned about the debt and unsustainable overspending in our country," Benton said in a statement. "He uses Rome as a metaphor to show that great nations can fall if they are not vigilant in protecting their traditions. He believes that millions of Kentuckians share that same concern."
Much of Paul's speech, according to the Courier Journal, was "his standard stump speech, with a call for term limits for members of Congress, less government spending and an end to budget earmarks." On a more positive note, however, he called for bipartisanship, saying it is "a bit unfair" to blame President Barack Obama–but only before pointing out that officials knew of faults in BP's Deepwater Horizon rig and did not move to shut it down.
While the economy is an obvious concern in the country, Paul's analogy is a dramatic one.
Watch Paul's remarks below:
Have a tip we should know? tips@mediaite.com