Michael Steele on Republicans Falling in Line for Trump: GOP 'Has Emasculated its Authority'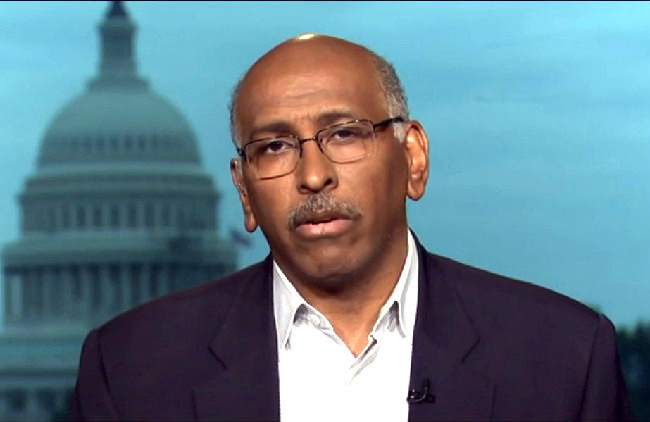 Mediaite columnist John Ziegler interviewed Michael Steele on his latest podcast, and the former Republican National Committee chairman voiced concern about whether President Trump will end up hurting political conservatism more than helping it.
The two began their discussion by examining how Trump's impact on America's thought process has redefined conservatism as a political dynamic. Steele also used this segment to bemoan how Congressional Republicans can't reach a consensus on health care, and they are now forced to defend Trump along with their years of protesting Obamacare.
Steele was concerned that this would give Democrats plenty of ammunition to use in the 2018 gubernational elections.
In time, the discussion addressed how there was no solid resistance against Trump as he took over the Republican Party's ideology throughout the 2016 election. Steele ended up bashing Reince Priebus, saying his RNC successor capitulated to Trump and suppressed the party's fragmentation so the mogul would become president and Priebus could reap the rewards.
"You still have to stand for something," Steele said. "You still have to be about something, and for the party that always takes it on the chin when it comes to matters related to women and minorities and others, and yet we argue that's not who we are – you seemingly embrace the ugliness of [Trump's Access Hollywood video] – I think it's a problem."
Steele continued to say that there will be new concerns to address since "the Republican Party that I know I chaired will not exist" much longer in its current trajectory. Steele and Ziegler also reached an agreement about how Trump's presidential win is a short-term GOP victory, but could still have dire consequences for the party in the long run.
"The party has emasculated its authority, in my view, to speak to various groups of people about a host of issues," Steele said. "I get sick and tired of hearing Republicans going out and citing Ronald Reagan and they clearly don't even know the man."
Steele and Ziegler also talked about Donald Trump Jr.'s 2016 meeting with Kremlin lawyer, as well as the reasons why the ongoing investigations of Russia are not "fake news."
Listen above, via Free Speech Broadcasting.
[Image via screengrab]
— —
>> Follow Ken Meyer (@KenMeyer91) on Twitter
Have a tip we should know? tips@mediaite.com