So Many People Tried to Buy Weed in Nevada That the State Declared a State of Emergency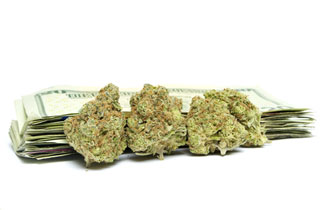 When the sale of recreational marijuana became legal in Nevada on July 1, so many people came out to blaze it that the governor had to declare a state of emergency to say: we're running out of weed.
Within the first four days of business, the 47 stores retail marijuana stores conducted more than 40,000 transactions and made around $3 million in sales. The law passed back in November and would allow those 21-years-old and up to purchase up to one ounce of weed.
The part that is slowing down the sales is the distributors. The law gave exclusive rights to liquor distributors to transport the product, but the process has been slow and full of legal blockades.
Gov. Brian Sandoval issued the state of emergency so that the state can make emergency regulations to fix the shortage as fast as possible. In the statement, he issued ways to make it easier to obtain a distribution and transportation licenses.
"Based on reports of adult-use marijuana sales already far exceeding the industry's expectations at the state's 47 licensed retail marijuana stores, and the reality that many stores are running out of inventory, the Department must address the lack of distributors immediately," the statement said. "Unless the issue with distributor licensing is resolved quickly, the inability to deliver product to retail stores will result in many of these people losing their jobs and will bring this nascent market to a grinding halt. A halt in this market will lead to a hole in the state's school budget."
The Nevada Tax Commission is to vote on the regulation on July 13.
Have a tip we should know? tips@mediaite.com