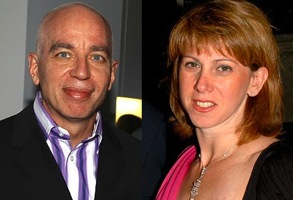 Michael Wolff has written a column today on Newser hitting back at comments made by Sharon Waxman of The Wrap and also at the cease and desist letter The Wrap's legal team sent Newser yesterday. We've been following the growing feud between the two all week as well as the developing debate over the ethics of news aggregation or curation. The Wolff/Waxman fight has been particularly fun as it combines the intellectual interest of a fascinating debate as well the slightly less high-brow enjoyment of some really catty insults. This latest column doesn't disappoint on either facet.
For fun, let's start with the insults. In his column, Wolff tries to discredit Waxman's ethical high-ground claims by finding some skeletons in her closet. This is what he comes up with:
"When Waxman was a reporter at the New York Times, she wrote an over-the-top laudatory article about how Starbucks' CEO Howard Schultz was making aggressive investments in the entertainment business. Waxman and the Wrap, in surely the appearance of trading the Times' positive coverage for personal gain, became one of Schultz's investments. "
We assume Wolff is talking about this article. While it is a bit of a puff piece, to imply that it was some kind of pay-off for Schultz's later Wrap investment seems like a bit of a stretch since the article was written three years before The Wrap launched. It takes a while to create a website (SportsGrid coming soon!) a shady back room deal that far in advance that manipulated the writing of that article is a little doubtful. If Wolff wanted to attack Waxman for writing an "over-the-top laudatory article" about Schultz, he should have linked to this one. Of course, that was written after The Wrap launched and Waxman does offer a full-disclosure statement at the end explaining Schultz's connection to her site so her hyperbolic praise is more icky than completely unethical.
But really, this all has very little to do with the debate at hand (despite what Wolff's provocative Twitter post implied) and, fortunately, after only a couple of paragraphs , Wolff shifts gears and focusses on arguments that are more germaine and filled with more merit.
"Fact No. 1: Every Newser story contains two automated links to the source, as part of the dateline on our homepage pop-up windows (e.g. SOURCE: Associate Press), and under a red box that says SOURCES right next to the story. Along with that, we cite the source and link to it in the text of nearly every story.

Fact No. 2: Our business is not news gathering, it is news curation and summarization. We do what Jim Romensko does at Poynter, or what is done at Arts & Letters Daily, or Daily Beast, or Slate, or on virtually every daily television news show, or what Cliff Notes does. Simply: We believe that summarizing adds value. And we believe it is ethical: We don't take words; we don't take expression; we don't take photos or video; what we do is reduce to the facts and then add our own headlines, and licensed photos and videos to improve the ability to immediately understand a story."
These two points boil the issue down to their most important components: whether or not the collection and summarization of news stories from other sources adds anything and, if it does, how to cite and link to the other source. We certainly believe that, in this world of a million different news outlets, the curation of the most interesting ones for busy readers is important so we agree with Wolff there. However, like we wrote in previous pieces on the subject, he'd probably have a stronger argument if the Newser summarization posts added any kind of editorializing that would differentiate itself from the original writer's work.
On the subject of link's though, Wolff may be on shakier ground. While he's right that Newser includes links on all their summarizations, the way they're placed (on a grid to the side of the article instead of cited within) and the way the articles are phrased really don't give much incentive for a reader to click through.
We will concede though, that Wolff gets off a good punch at the end of the post:
"The point is Waxman's beef is trumped up. It is designed for huffing and puffing. It is self-promotion. In that it has succeeded: Waxman and I will be debating all this (if you can stand it) on Howard Kurtz's CNN show at 11am on Sunday morning."
While Waxman has made a lot of good points about the protocol used at Newser, we wouldn't be surprised if much of her rage at this point was partly an act. Clearly this story has gotten both sites a whole lot of publicity. It's certainly given our news site plenty of content to write about. Which is funny considering it's a story about online news content.
But what on earth is Wolff talking about with that "if you can stand it" comment? Is he kidding? We can't wait!
For those that missed it, we posted an interview with Sharon Waxman this morning.
Have a tip we should know? tips@mediaite.com