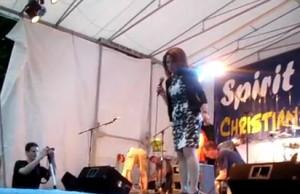 According to a Wonkette post Monday afternoon, GOP presidential hopeful Rep. Michele Bachmann asked a crowd at an event in Iowa, "Who likes white people?"

The post was tweeted by Politico's Ben Smith, who noted that it was an "out-of-context line (it's a band name)," but The CW's Alana Russo quickly pointed out that the unedited version clearly demonstrates that Bachmann actually roused the crowd with the strange applause line "Who likes wet people?"
Wonkette editor Ken Layne introduced the clip, which is more suspiciously chopped than a tofu ribeye, with some trademark damnation:
Who likes white people? Uhh, everybody except for black people and brown people and yellow people, we guess? Also, many actual white people don't much like white people, having read a history book or two. But Michele Bachmann is here to praise Jesus and His Own Special People, even though he was an Arab.
Layne goes on to note the explanation about the band name, but even before I saw Russo's tweet, my ears did not believe Layne. Even so, without any context, "wet people" doesn't make a whole lot of sense, at least not with this crowd. Were they just glad to see her?
Here's the beginning of the damning Wonkette's clip, followed by the same section from the unedited video, without the cuts:
In the unedited clip, she follows "Who likes wet people?" by saying, "That's right, because we've got the God of the winds and the rains, don't we? We serve a mighty God."
Before any of you even start, yes, it is really bad to accuse someone of saying "Who likes white people" when they didn't, but it's not as bad as slavery.
Have a tip we should know? tips@mediaite.com