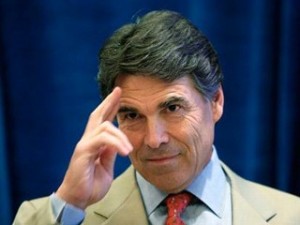 The results of a new CNN/ORC poll show Texas Governor Rick Perry leading in the GOP field, having earned a prospective nomination from 27 percent of  likely Republican voters. Mitt Romney followed in a not so close second with 14 percent of votes, and Sarah Palin, who has still yet to throw in her hat, takes third with 10 percent of votes. Michele Bachmann and Rudy Giuliani round out the top five with 9 percent a piece. A Gallup Poll last week similarly had Perry leading in the GOP field, although it did not have him leading against President Obama.
According to CNN's survey, Perry supporters skew older, male and towards those with higher incomes. "Perry's biggest support comes from Republicans who say they are supporters of the tea party movement – he wins 37 percent of their vote – but he also edges Romney by a couple of points among Republicans who don't call themselves tea party supporters," finds CNN Polling Director Keating Holland.
Results: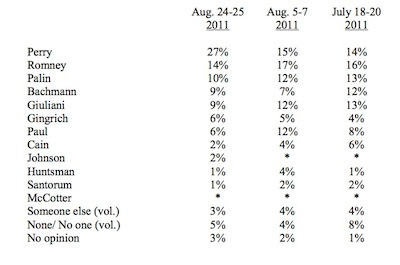 Removing Palin and Giuliani, neither of whom have officially announced a bid, does little to the standings. Perry remains on top with 32 percent, followed by nearly the same percentage as before by Romney, with 18 percent; Bachmann took 12 percent and was followed by Newt Gingrich with seven percent and Ron Paul with six percent of votes.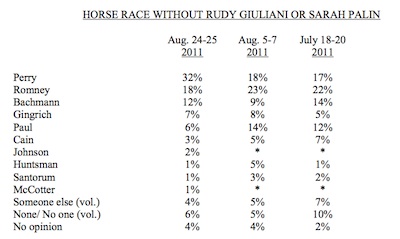 As has been noted in preceding polls, it is still far to early to take these sorts of results as a sure sign of Perry's leading. "Much could change in the coming weeks," notes CNN, "as the pace of the race for the White House picks up with a vengeance over the next two months, with five GOP presidential debates and six major events that will also attract many of the candidates." Moreover, Palin and Giuliani's ability to register so many votes, even before they've officially entered the race, seems to indicate a certain malcontent regarding the current GOP candidates.
Have a tip we should know? tips@mediaite.com