Report: Nisreen Mansour Al Forgani, 19, Recounts Her Work As An Executioner For Gaddafi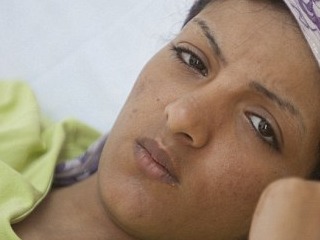 Much has been made about one particularly photogenic aspect of former Libyan leader Muammar Gaddafi's many eccentricities: His reliance on highly-trained female soldiers and bodyguards. Now, one of those young women is making news all on her own. Nisreen Mansour al Forgani, age 19, is currently chained to a hospital bed in Tripoli. She has admitted to executing at least 11 suspected rebel prisoners.
Nisreen is currently in the rebels' custody after jumping out of a second-story window to escape the militia, garnering further injury after being hit by a truck and crawling out of the compound. From her hospital bed, she's finally able to tell her story, insisting that she was forced to kill under the threat that her own life would end if she didn't.
Nisreen explains that a friend of her mother's named Fatma recruited her to join Gaddafi's militia, where she received special training as a sniper. She recalls the lies and abuse that took place behind closed doors:
Fatma was a zealous supporter of the regime, says Nisreen. "She told me that if my mother said something against Gaddafi that I should immediately kill her. If I said anything about the leader that she did not like I would be beaten and locked in my room. She also told us that if the rebels came, they would rape us."

It was a shameless piece of manipulation from the militia leader who, according to Nisreen, pimped her female recruits for the sexual gratification of her senior male colleagues.
Nisreen herself was raped by various men within the military, for whom Fatma would select girls in return for gifts.
She recounts performing executions in a room where rebel prisoners were brought one by one and shot point blank. Another female guard watched over her to make sure she didn't escape.
Rebels watch over her as she recovers, both for her own safety and to make sure she doesn't escape. Occasionally, they'll interrogate her about her actions, asking her how she could do such things. She is being treated by a Libyan child psychologist, who is working to address both Nisreen's various rapes and her work as an executioner.
h/t Daily Mail
Have a tip we should know? tips@mediaite.com