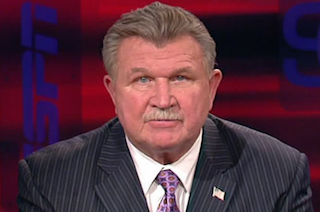 Former Super Bowl-winning NFL coach and current ESPN analyst Mike Ditka is making his views on the debate over the Washington Redskins' name known this week in an audio interview with Mike Richman, who calls himself the Redskins Historian. Ditka, who once said his "biggest mistake" was not running against Barack Obama for U.S. Senate in Illinois, blamed liberals for turning this into an issue in the first place.
"What's all the stink over the Redskin name? It's so much horse shit it's incredible," Ditka said. "We're going to let the liberals of the world run this world. It was said out of reverence, out of pride to the American Indian. Even though it was called a Redskin, what are you going to call them, a Brownskin? This is so stupid it's appalling, and I hope that owner keeps fighting for it and never changes it, because the Redskins are part of American football history, and it should never be anything but the Washington Redskins. That's the way it is."
"It's all the political correct idiots in America, that's all it is," Ditka added in the interview. "It's got nothing to do with anything else." He later apologized, saying he's "not very tolerant of the liberals who complain about everything."
Last year, the District of Columbia City Council voted for a measure urging the Redskins owner to change the team name, and later 50 U.S. senators signed a letter to the NFL demanding the same. But team owner Dan Snyder has remained vigilant in his insistence that the organization has no intentions of renaming the team.
Listen to the full audio of Ditka's remarks below, via redskinhistorian.com:
[Photo via screengrab]
— —
>> Follow Matt Wilstein (@TheMattWilstein) on Twitter
Have a tip we should know? tips@mediaite.com