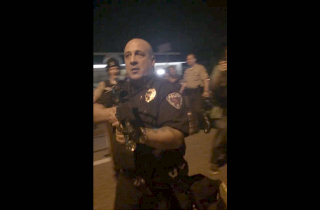 If you've followed Ferguson coverage at all this week, you're likely aware of video showing an officer pointing his rifle directly at unarmed protestors while threatening "I will fucking kill you!" When reporters and protestors demanded he give his name and badge number, he responded with an ever-so-subtle "Go fuck yourself!"
The Missouri branch of the American Civil Liberties Union was rightfully incensed by such pitifully poor cop work that they submitted a letter to Missouri Highway Patrol demanding that Officer Go Fuck Yourself be removed from duty in Ferguson:
Our letter to MO Highway Patrol: STOP threatening peaceful #Ferguson protesters. http://t.co/Eg8wH3HHbb #MikeBrown pic.twitter.com/xDJxRXvMXt

— ACLU of Missouri (@aclu_mo) August 20, 2014
Less than an hour later, the ACLU reported that they had been successful in lobbying for his removal:
SUCCESS! In response to our letter, officer who threatened to kill #Ferguson protesters has been removed from duty https://t.co/53WP8Ht0Mu

— ACLU of Missouri (@aclu_mo) August 20, 2014
Though the officer refused to name himself to reporters, a second video shot by Youngist producer Caleb-Michael Files shows a much more identifiable picture of the cop:
According to that same reporter, the officer is with the St. Ann Police Department:
.@TalibKweli @Divalizzous his name is RAY ALBERS pic.twitter.com/wX4a9tsSqz

— Caleb-Michael Files (@cmichaelfiles) August 20, 2014
Call the St Ann police department and ask for 'Ray Albers' to be put on leave for his actions in #ferguson last night pic.twitter.com/L4RGghDzYv

— Caleb-Michael Files (@cmichaelfiles) August 20, 2014
We spoke with a communications associate at the St. Ann Police Department, who told us that while the department has not issued any comment on the matter, they are currently "looking into it." We were told the department's chief was gathering names and phone numbers to return calls later today.
— —
>> Follow Andrew Kirell (@AndrewKirell) on Twitter
Have a tip we should know? tips@mediaite.com