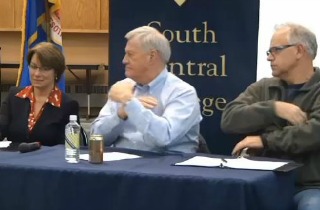 Given the level of public anxiety surrounding the rocky implementation of the Affordable Care Act, it's a forgivable to assume that Democratic members of Congress would be prepared to address those concerns when they speak with their constituents about the law's effects. That presumption proved incorrect recently when North Star State Sen. Amy Klobuchar and Minnesota Reps. Tim Walz and Collin Peterson could muster only a shrug and a chuckle when confronted about the health care reform law.

"I thought the Affordable Care Act would save $2500 per family," one Minnesota resident recently asked the members of his state's Congressional delegation. "What happened?"
Silence punctuated by occasional throat clearing followed that utterly predictable question. Finally, after a pregnant pause, Peterson responded:
"I voted 'no,' so I'll let these guys handle that," he replied.
Finally, Walz took a stab at defending the law and his party's dramatic reformation of the American health care system.
"This health discussion has got to be broader, it's got to point out where there are weaknesses and failures, it's got to make sure we're not leaving people behind or distorting the system," he insisted. "But don't pretend there was some type of safe harbor before this where everything was just peachy keen."
As HotAir's Ed Morrissey — who originally flagged this powerful clip — pointed out: The majority of Americans actually were satisfied with the health care system prior to the implementation of the ACA.
In September 2009, 85% of Americans had health insurance — and 87% expressed satisfaction with their health care, while 61% were satisfied with the costs associated with it. Fifty percent of the uninsured were satisfied with their health care, although 69% were dissatisfied with the costs.
In order to make the nation's health care system better for a minority, Democrats made it worse for a majority. Given this reality, it's understandable that Democratic politicians would be woefully ill-equipped to mount even a tepid defense of the law.
Watch the segment below via KEYC:
h/t HotAir
[Photo via screen grab ]
— —
> >Follow Noah Rothman (@NoahCRothman) on Twitter
Have a tip we should know? tips@mediaite.com