Minnesota Gubernatorial Nominee Waits Tables As Damage Control Following Anti-Tipping Comments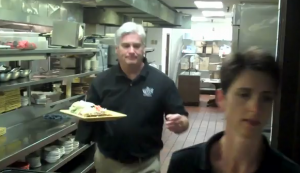 The campaign team behind Tom Emmer's race to be Minnesota's governor has been trying hard to save face following Emmer's poorly received comments that there may need to be a lowering of minimum wage for waiters and servers since, with their tips, they can make $100,000 a year. How hard is the team working at damage control? Well, they've released a public statement denying Emmer ever made the comments and now they've even released a video of him waiting tables at a local restaurant. As hard as they work to dispel the belief that Emmer said these things, they might have a problem in the form of a video him, y'know, saying these things.
The Free Press has some details on what Emmer's original comments about a tip credit could mean if they were actually employed:
"He proposes that waiters and waitresses who get $30 or more a month in tips could be paid the federal minimum of $2.13 an hour for that business.

If a waitress worked 160 hours a month and got $30 in tips it would work out to 17 cents an hour, skyrocketing her hourly pay to $2.30. Seventeen cents an hour in tips means she's either a bad waitress or serving retired German Lutheran farmers.

Emmer said some servers and bartenders now make $100,000 annually, a claim that left many scratching their heads. Even if given a good 20 percent tip by every customer, a waiter would have to sell $500,000 in food, and not share any of the tips with the kitchen staff, which is the custom at most restaurants."
Obviously, Emmer wasn't really thinking things through when he made those original comments. However, his team isn't just claiming that he misspoke, but that he never spoke at all denying it in the public statement as well as having he himself deny it in the rather ridiculous waiting tables video. Of course, the original video, released by the Democratic-Farmer-Labor Party would seem to suggest otherwise. Check out both videos below.
It's unclear whether these comments will cost Emmer the election. What is clear, is that he will be forced to check his food for spit for a long, long time.
Have a tip we should know? tips@mediaite.com