Mission Accomplished: Daily Caller Trumpets 'Public Opinion Shift' In Trayvon Martin Story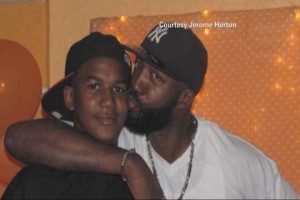 In a much-publicized CNN poll taken last weekend, 73% of all respondents said that George Zimmerman should be arrested for the shooting death of Trayvon Martin. Following a week of unsworn testimony by Zimmerman surrogates like "friend" Joe Oliver and brother Robert Zimmerman, Jr., pro-Zimmerman leaks by the Sanford police, and a campaign by some conservative news outlets to abet the smearing of Trayvon Martin, The Daily Caller boasts that "Public Opinion Shifts On Trayvon Martin Case."
Keep in mind that the question here isn't about George Zimmerman's innocence or guilt, but whether he should even face charges for the shooting.
From The Daily Caller's David Martosko:
The earlier poll, from CNN and ORC International, found that 73 percent of Americans were in favor of police arresting Zimmerman, the self-appointed neighborhood watch leader who killed Martin after what he has said was an altercation initiated by the unarmed teen.

But just two days later, a national poll from Wilson Perkins Allen (WPA) Opinion Research determined that just 48 percent of Americans said police should arrest Zimmerman — a decrease of 25 percent.
Let's set aside The DC's Zimmerman-serving summation – even if you take Zimmerman at his word, it should probably read "after what he has said was an altercation initiated by the unarmed teen whom he chased with a gun after police told him not to" – let's take a look at what happened in the three days between these two polls.
The CNN poll was taken on Saturday and Sunday, March 24 and 25. Republican pollster WPA took their poll on Tuesday and Wednesday, March 27 and 28. So, what happened on March 26 and 27?
Well, on March 26, The Orlando Sentinel published a report that was leaked to them by "law enforcement sources" which detailed George Zimmerman's version of events. That same Sentinel reporter, Rene Stutzman, confirmed to MSNBC's Lawrence O'Donnell that those same sources leaked her the details of Trayvon Martin's suspension from school over alleged marijuana residue.
That's also the day that George Zimmerman's attorney launched a PR offensive that included new pictures of George, and a media tour by Zimmerman "friend" Joe Oliver, father Robert Zimmerman, and brother Robert Zimmerman, Jr. That same day, an undisclosed (but not anonymous) source fed Trayvon Martin's Twitter feed to The Daily Caller, which they dutifully published. It was also the day that conservative websites began posting thugged-out photos of the wrong Trayvon Martin.
None of this should have any bearing on whether George Zimmerman is charged – the fact that he claims self-defense isn't new – yet the Zimmerman PR campaign, combined with the Sanford Police's conservative media-abetted smear campaign against Trayvon Martin, have had exactly the desired effect: to muddy the waters.
What The Daily Caller neglects to point out is that almost all of this "shift" in public opinion is from supporting the arrest of George Zimmerman, to "unsure." In the CNN poll, only 11% said Zimmerman should not be arrested, versus 16% in the WPA poll, a difference that's within the margin of error. The "unsure" number swung from 16% in the CNN poll who had "no opinion," to 36% in the WPA poll who were "unsure."
In that CNN poll, they published a breakdown by party. Eighty-five percent of Democrats thought that Zimmerman should be arrested, versus 71% of Independents, and 59% of Republicans. In the WPA poll, 77% of Democrats thought Zimmerman should be arrested, versus 42% of Independents, and only 24% of Republicans. However, only 16% of independents in the WPA poll thought that Zimmerman should not be arrested; most of their "shift" was from "arrest" to "unsure."
Republicans were the only group in which "don't arrest" outnumbered "do arrest," at 27% to 24%.
This is an opinion piece. The views expressed in this article are those of just the author.