Missouri GOP Candidate Selling 'ISIS Hunting Permits' to Raise Campaign Cash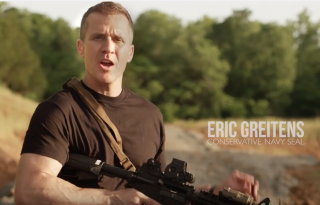 A Missouri GOP candidate for governor is raising money for his campaign in a new way.
Eric Greitens, the candidate and a former US Navy SEAL, is selling "ISIS hunting permits" to help him raise money. The permits say that they expire "when we defeat this evil" and they report having a "No bagging limit. No tagging limit."
People are able to purchase them for a $10 donation, but for a $100 donation, people will receive a permit signed by a former Navy SEAL, who claims to have killed Osama Bin Laden.
A GOP gubernatorial candidate issued himself an "ISIS hunting permit".

Becuase… why not? https://t.co/i6PmdqywxUpic.twitter.com/6hAG9mg0V5

— Kyle Griffin (@kylegriffin1) June 30, 2016
Before these permits came out, ISIS, the Islamic terrorist group, had not played much of a factor in the Missouri gubernatorial election. However, Greitens is attempting to play up his experience as a SEAL officer to his advantage to win votes.
"Eric Greitens served in a terrorist targeting cell in Fallujah during his time in Iraq. It's just part of who he is," Campaign manager Austin Chambers said in a written statement to the St. Louis Post-Dispatch.
In addition, Chambers said the stickers "provided a unique way to highlight [Greitens'] experience and service."
As for the reason for the stickers in general, Chambers cited both its success and provided the real reason why they were made.
"Clearly it worked because it caught your attention," Chambers wrote.
Greitens is in for a hard race ahead of him against 3 other candidates, and is trying to make himself stand out in the press and to the public. The Missouri GOP gubernatorial primary takes place on August 2nd.
Have a tip we should know? tips@mediaite.com