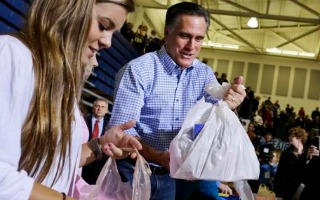 Republican presidential candidate Mitt Romney voiced his support for the Federal Emergency Management Agency while they work to mitigate the damage done by Hurricane Sandy to Eastern and Midwestern areas of the United States. Romney told ABC News he believed that FEMA plays a "key role" in coordinating with local agencies to minimize the loss of life and destruction of property in disasters. Romney's support for FEMA is a reversal from the position he struck during the Republican primary race in which he said that, if possible, disaster relief should be left to state agencies that can more efficiently direct funds to the areas they are needed most.

"I believe that FEMA plays a key role in working with states and localities to prepare for and respond to natural disasters," Romney said in a statement to ABC News on Thursday. "As president, I will ensure FEMA has the funding it needs to fulfill its mission, while directing maximum resources to the first responders who work tirelessly to help those in need, because states and localities are in the best position to get aid to the individuals and communities affected by natural disasters."
During the Republican primary debates, Romney said that he believed disaster relief funds should be left to the states to distribute:
Every time you have an occasion to take something from the federal government and send it back to the states, that's the right direction. And if you can go even further and send it back to the private sector, that's even better. Instead of thinking in the federal budget, what we should cut — we should ask ourselves the opposite question. What should we keep? We should take all of what we're doing at the federal level and say, what are the things we're doing that we don't have to do? And those things we've got to stop doing, because we're borrowing $1.6 trillion more this year than we're taking in.
Read the full report via ABC News
> >Follow Noah Rothman (@Noah_C_Rothman) on Twitter
Have a tip we should know? tips@mediaite.com