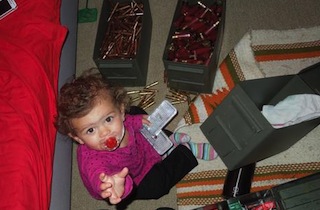 An arrest warrant has been issued for a mother in — wait for it — Florida after she failed to return her daughter per a shared custody agreement, instead leaving a note that she could not let the two-year-old be vaccinated and "brainwashed."
Megan Everett picked up 2-year-old Lilly in early May, but did not return after the court-mandated week. The note she left for father Robert Baumann read:
"You are a great dad. If I let them take her and vaccinate her and brainwash her, I wouldn't be doing what's right. I cannot let a judge tell me how my daughter should be raised. We will miss you. But I had to leave." [emphasis Everett's]
Even Everett's mother said that Lilly belonged with her father, saying that Megan had cut off ties to her family after becoming involved with Carlos Lesters, a "Confederate-flag-waving gun enthusiast." Baumann suspected the anti-vaccination angle was meant to keep Everett out of school, where she might encounter topics Lesters found objectionable:
"One of the issues we had was, she wanted to home-school my daughter. I didn't want that to happen. She didn't want Lilly to learn about black history. She just wanted her to learn about the Confederacy…I think she wanted to keep her from being vaccinated because that would keep her out of day care."
Authorities encountered Lesters when in the search for Lilly, and he informed them Everett intended to live life as a fugitive to keep her daughter "free." Everett and Lilly remain at large.
[h/t Gawker / Sun Sentinel]
[Image via Sun Sentinel]
——
>> Follow Evan McMurry (@evanmcmurry) on Twitter
Have a tip we should know? tips@mediaite.com