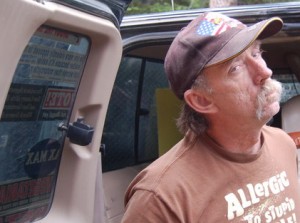 Tim Ravndal was the president of the Montana based Big Sky Tea Party Association who was removed after receiving criticisms for comments he made on Facebook that implied he condoned violence against homosexuals. He is also suddenly the new lightening rod for criticism of anti-Tea Party detractors who allege rampant intolerance among the Tea Party movement, as well as a likely example of an anomaly of character and behavior among those eager to defend the Tea Party movement.
Writing for the Independent Record, John Doran reports:
Tim Ravndal was removed as president of the local chapter Sunday after the group's board of directors learned of his volatile post on the online social networking site, according to Roger Nummerdor, the former president and a current board member of the group. Nummerdor also said Ravndal is no longer welcome in the party.

"He's out," he said.

Jim Walker, chairman of the Big Sky Tea Party Association board and an early founder of the anti-big- government group locally, said in a release that as soon as the board learned of Ravndal's inflammatory comment, they called an emergency meeting to address the situation.

"We are extremely disappointed by Mr. Ravndal's commentary," wrote Walker, who could not be reached for this story. "The discussion in that Facebook conversation is entirely outside the position of the Big Sky Tea Party. Even though Mr. Ravndal was having a personal conversation and made no reference to our group, we felt strongly that swift and decisive action was required as we cannot accept that sort of behavior from within our membership, let alone from an officer of the corporation.
Andy Towle at Towle Road offers the following screen shot of Ravndal's comments, followed by Towle's own commentary: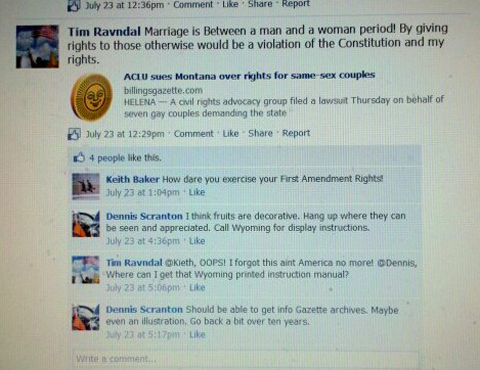 This seems to have been posted in late July, but several people have brought it to my attention today. Tim Ravndal, the President of Montana's Big Sky Tea Party Association, expressed his views that marriage should be between a man and a woman in a Facebook posting. The post was in response to an ACLU lawsuit in Montana brought by seven gay couples who want to get married.

Then Ravndal expressed support for a commenter who (in apparent reference to the Matthew Shepard murder) said, "I think fruits are decorative. Hang up where they can be seen and appreciated. Call Wyoming for display instructions."

Answered Ravndal: "Where can I get that Wyoming printed instruction manual?"
The Independent Record reports that Ravndal's most recent Facebook post, made Friday at 11:07 a.m., he calls his comment a "mistake" and says, "Those that know me understand and that is all that matters!"
Board Chair Jim Walker clarified Ravndal's comments further in his statement, saying "I do believe Mr. Ravndal when he explained that he was in no way intending to promote violence and that he was not thinking about nor condoning the murder of an innocent victim in Wyoming in 1998 when he responded to some very disturbing comments made by another individual," continuing, "However, no matter how we considered the commentary, it was clear to us that he was participating in conversation which was overtly bigoted and we cannot have an officer of our corporation engaging in such behavior."
Have a tip we should know? tips@mediaite.com