More Bad News From Japan: Officials Find Radioactive Water Leak Into The Ocean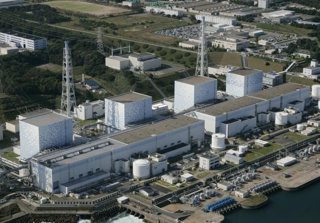 Officials at the damaged Fukushima Dai-Ichi plant in Japan have finally managed to explain the exorbitant spikes in radiation in the seawater surrounding the plant: an eight-inch crack in the radioactive deuterium and tritium containment basin that has been leaking water into the ocean. The leak has been mostly contained, but concrete filling with continue tomorrow morning Japan time.
According to CNN, the high radiation levels in the seawater had been puzzling workers for days, until they finally found the visible leak. Besides plugging in the leak, officials are working on various other precautionary measures while they work on cooling down the broken reactors:
A two-day project began Saturday to install a camera in that trench to help pinpoint potential leaks, a Tokyo Electric official said.

Spraying was also set to continue this weekend of an experimental new material to lock in radioactive material in and around the nuclear complex so that it doesn't seep further into the air, water or ground.

Crews have dispersed about 2,000 liters (more than 500 gallons) of synthetic resin in a 500-square meter locale, according to Tokyo Electric. The aim is to hold the released radioactivity on the ground, so it can't interfere with the restoration of the cooling systems aimed at preventing the overheating of nuclear fuel rods in reactors and spent fuel pools at the plant.

"You spray it to hold down the loose contamination, and it acts like a super glue," said Nolan Hertel, a radiation engineering expert at the Georgia Institute of Technology in Atlanta. "You don't want radiaoactive materials that are loose to get away."
There is also no definitely end in sight for the saga, though officials are working around to clock to contain the disaster.
Have a tip we should know? tips@mediaite.com